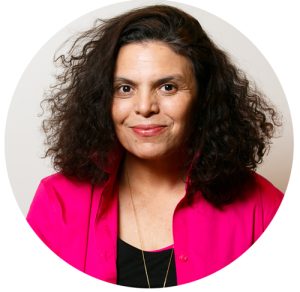 Judith Helfand
Director
Judith Helfand, Director/Producer/Educator: Peabody Award-winning filmmaker Judith Helfand (A HEALTHY BABY GIRL, BLUE VINYL, COOKED: SURVIVAL BY ZIP CODE and most recently LOVE & STUFF) is best known for her ability to take the dark worlds of chemical exposure, corporate malfeasance, environmental injustice, the climate crisis, disaster politics and more recently deep grief and parenting, and make them personal, resonant and even entertaining . A committed field-builder, Helfand co-founded Working Films in 1999, which is dedicated to using nonfiction storytelling to increase civic engagement and promote environmental and racial justice at the local, state, and national level. In 2005 she co-founded Chicken & Egg Pictures, which supports women and gender non-conforming non-fiction storytellers at critical stages in their careers with creative mentorship, community building and funding. As Creative Director she helped design and lead Chicken & Egg Pictures' mentorship and funding programs for nearly a decade, served as a Producer on the Oscar-nominated, Dupont-winning short, THE BARBER OF BIRMINGHAM and Executive Producer on the award-winning films SEMPER FI: ALWAYS FAITHFUL and PRIVATE VIOLENCE. She continues to work there as a Senior Creative Consultant.
In 1997 Helfand received a Peabody Award for A HEALTHY BABY GIRL, in 2002 two Emmy nominations for BlUE VINYL, in 2007 she received a United States Artist Fellowship, in 2016 she was invited to join the Academy of Motion Picture Arts and Sciences Documentary Branch and in 2019 she was awarded the San Francisco Jewish Film Festival's 2019 Freedom of Expression Award for her work producing and actively using her film COOKED: Survival By Zip Code, for community engagement. The award winning feature documentary explores intersecting public health crises, extreme heat, extreme structural racism, the politics of disaster and survival by zip code. It was nationally broadcast on the PBS Independent Lens Series in February 2020, rebroadcast to commemorate the 25th anniversary of the Chicago heat wave and to give historical context to the scourge of covid. It is still being used virtually with many different communities across the U.S. and Europe to frame and reframe the current COVID-19 crisis with a long view on how and why acute disparity exists in the United States and why it must be addressed as the public health crisis it is. Helfand's newest feature LOVE & STUFF, inspired by the 2014 NYT Op-Doc of the same name, had its world premiere at Hot Docs 2020, is still on the film festival circuit and will be the centerpiece of an engagement campaign and semi theatrical distribution dedicated to inspiring communities to talk about love and "stuff," living a good death, mourning and grief — and what it is we really want to leave our children.
Helfand taught documentary production at NYU's Tisch School of the Arts for seven years, co-created a series of classes that taught environmental filmmaking and community engagement to graduate students studying environmental health, science and history at University of Wisconsin at Madison in 2007 and 2009, was the 2020 Bob Allison (Allesee) Endowed Chair in Media at Wayne State University's Department of Communications, and is currently teaching documentary to emerging journalists at Columbia University's Journalism School where she is a visiting professor. She lives in NYC with her seven-year-old daughter Theo in Zip Code 10024.