Recent Events
Roundtable Webinar with Alexandra Juhasz, Theodore Kerr,
Lorie Novak, and Meghan O'Rourke
Moderated by Laura Wexler and Eilin Perez
September 27, 2022
The pandemic is far from over, vaccination is imperfect, long-covid is a significant threat, politics plays hardball with our lives, we are underprepared for the horizon of other viruses, consequences are vastly unequally distributed, and we are likely to be anxious, in denial, and puzzled about how best to respond. In this Roundtable, four prominent artists and scholars will present art and organizing strategies drawn from lived experience with chronic illness, community activism, and the personal and political demands long-hauling presents. Read More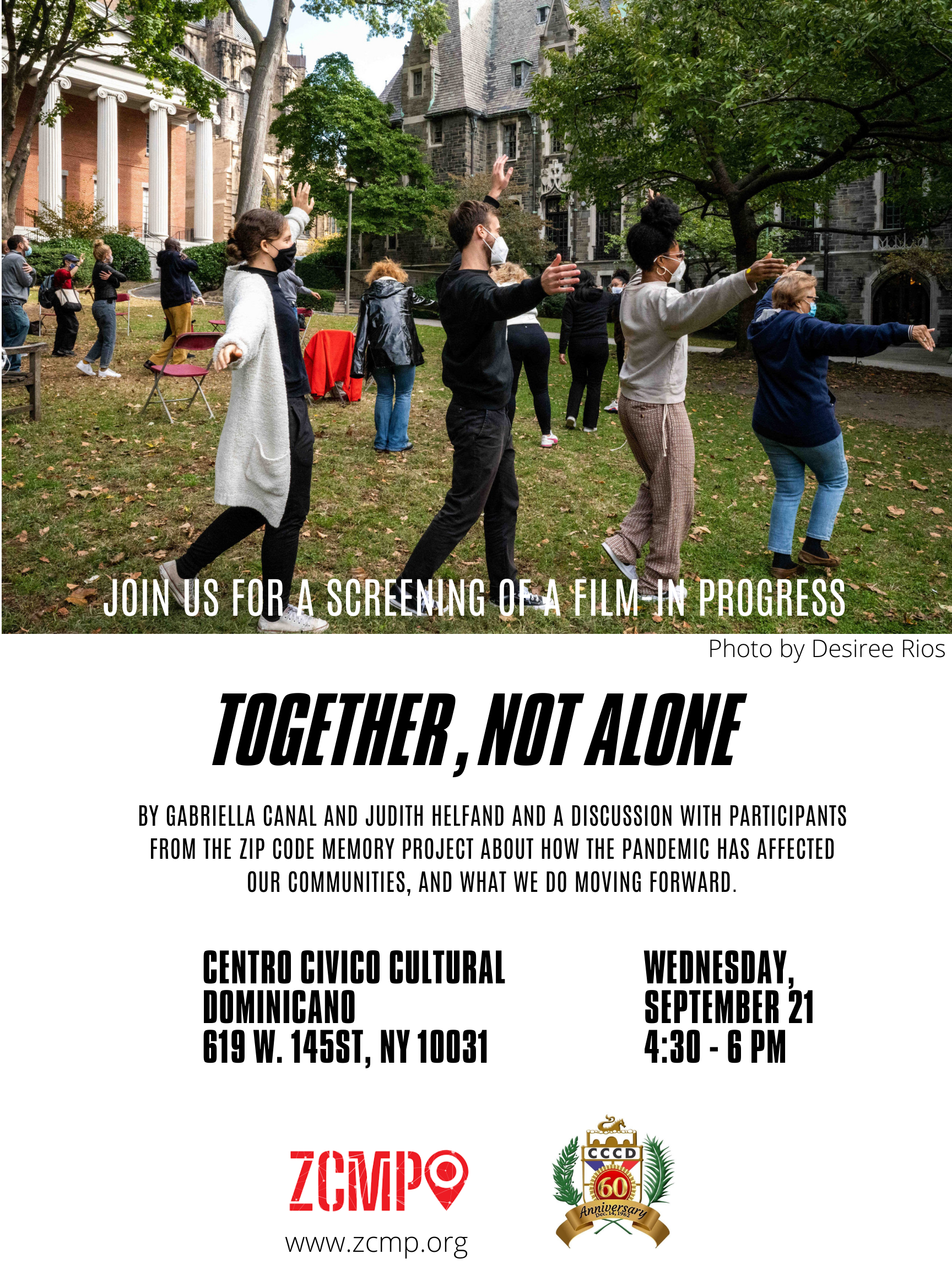 ---
Brooklyn Talks: Rafael Lozano-Hemmer, Sekou Cooke, and Paul Farber
Thursday, May 26, 7–9 pm
How can we visualize the extraordinary loss of life caused by COVID-19? Media artist Rafael Lozano-Hemmer, whose work in on view in our special exhibition A Crack in the Hourglass, An Ongoing COVID-19 Memorial<https://www.brooklynmuseum.org/exhibitions/rafael_lozano_hemmer>, is joined by architect Sekou Cooke and Paul Farber, director of Monument Lab, to discuss the ways in which art and design facilitate spaces for mourning and cultural trauma. ASL interpretation will be provided. Reserve your seat and exclusive after-hours access to the exhibition here: https://my.brooklynmuseum.org/events/ccee930d-b015-5e66-d4fc-b844c58af639.

IMAGINE REPAIR
EXHIBITION & PERFORMANCES AT THE CATHEDRAL OF SAINT JOHN THE DIVINE
1047 Amsterdam Ave, New York, NY 10025
OPEN TO THE PUBLIC
Exhibition Opening: April 23, 2022, 3-6 pm
Performances: April 23, 2022, 6-8:30 pm
Exhibition on view: April 24 – May 15, 2022
Talk to the Future by Maria José Contreras: May 15, 2022
IMAGINE REPAIR is a celebration of the power of community and care demonstrated by neighborhoods unequally affected by the Covid 19 pandemic. Following several months of creative workshops engaging participants from across Upper N.Y.C. Zip Codes, the exhibition and performances express a collective desire for renewed hope, connection and transformative justice.
The opening performance event features Imani Uzuri, Fred Moten, Rev. Juan Carlos Ruiz, Amyra Léon, Alicia Grullon, Reverend Billy and The Stop Shopping Choir, The Illuminator, George Emilio Sanchez and Noni Carter with project participants.
The exhibition includes creative projects that Zip Code Memory Project participants have produced in ongoing workshops, along with work by Kamal Badhey, Cathleen Campbell, Jordan Cruz, Maria José Contreras, Judith Helfand and Gabriela Canal, Chelsea Knight, Desirée Rios, Carrie Mae Weems, and Deborah Willis. In conjunction with the Brooklyn Museum, the exhibition features an interactive satellite installation of Rafael Lozano-Hemmer's A Crack in the Hourglass, An Ongoing Memorial for the Victims of Covid-19, to allow visitors to add portraits and stories about their lost loved ones to the work's online archive.
Exhibition Curator: Isin Önol, Exhibition Assistant: Aya Labanieh
Public Events Curator: Alo Gorozpe
TAKE PART IN THE EXHIBITION NOW:
Collaborate with artist Chelsea Knight on a "Depository of Anonymous Feelings"
Have a story about the pandemic you want others to hear, or want to sing a song that sustained you? Call 917-781-4612 Leave an anonymous phone message, up to 3 minutes. Your messages will be recorded and become part of Knight's installation.
Reparative Memory, Part II
A Virtual Roundtable with Artists María José Contreras Lorenzini, Rafael Lozano-Hemmer, and Kamau Ware
Thursday, March 31, 6:30 – 8:00 pm ET
Artists María José Contreras Lorenzini, Rafael Lozano-Hemmer, and Kamau Ware will share their process and the challenges faced in creating communities of memory. Introduced by Carol Becker, Dean, Columbia University School of the Arts and moderated by Marianne Hirsch and Diana Taylor, Co-Directors of the Zip Code Memory Project.
How can the devastating but radically disproportionate losses caused by the global COVID-19 pandemic be memorialized? While acknowledging the social inequities and injustices the pandemic has exposed, might local memories of loss and neglect be transformed into a practice of justice and collective healing? This second roundtable on Reparative Memory will approach the urgency of such challenges in conversations between noted artists who have responded to histories of violence and loss in different geo-political contexts by engaging communities in participatory memory projects. Their visionary projects have mobilized painful memories, leaving space both for mourning and for imagining potential futures.
Presented by the Columbia University School of the Arts and the Zip Code Memory Project with the Institute for Religion, Culture and Public Life and the The Society of Fellows and Heyman Center for the Humanities.
---
george emilio sanchez: In the Court of the Conqueror
March 10 -19, 2022, 7:00 PM
Abrons Arts Center 466 Grand Street (at Pitt Street) New York, NY 10002
In the Court of the Conqueror is a solo performance by Workshop Leader george emilio sanchez that delves into how U.S. courts have diminished the Tribal Sovereignty of Native Nations. The piece also shares sanchez's experiences of navigating generational trauma and Indigenous identity while being raised in an Ecuadorian immigrant household.
Select performances will be followed by post-performance discussions between sanchez and N. Bruce Duthu, Professor of Native American Studies at Dartmouth College.
For more information, click here.
A Virtual Roundtable on "Why Zip Codes?"
Tuesday, February 22, 2022, 6:30 -8:00pm
View the Video
Gregg Gonsalves, Associate Professor of Epidemiology, Yale University
Bill Rankin, Associate Professor of the History of Science, Yale University
Jacqueline Wernimont, Distinguished Professor in Digital Humanities and Social Engagement, Dartmouth College
Jia Zhang, Mellon Associate Research Scholar, Columbia University Center for Spatial Research
Moderator, Laura Kurgan, Professor of Architecture, Graduate School of Architecture, Planning and Preservation, Columbia University
and Director of the Center for Spatial Research
Convener, Laura Wexler, Charles H. Farnam Professor of Women's, Gender & Sexuality Studies and American Studies, Yale University
and Acting Co-chair of the Public Humanities Program
The Zip Code Memory Project Gathering for Covid
JOIN the Participants of The Zip Code Memory Project on December 5 on the steps of the Cathedral of St John the Divine for our first public gathering to acknowledge, mourn, and pay tribute to the losses of COVID 19.
Combining the physical and the digital, our gathering will include candles, music, postcards and a healing community ritual.
We invite you to send, bring or make postcards at the event responding to one or two questions in writing, drawing, photography or other media:
1. What have we lost and learned from Covid?
2. How can we heal and grow together?
On December 5, we will place the postcards and candles on the steps of the Cathedral. Postcard images will be projected on a screen and will be archived on The Zip Code Memory Project website. Candles and blank postcards will be available for free. If you address your postcard to someone, we will mail it for you.
Please send your contribution to zipcodememoryproject@gmail.com.
The Art of Covid Memorials: When Memory, Meaning, and Mourning Are Deferred
November 4, 2021
A Panel with Professor James Young,
Artist Karla Funderburk,
and Memory Activist Kristin Urquiza
SAMUEL HARGRESS AND THE MUSIC OF PARIS BLUES: A COMMUNITY EVENT
Sunday, October 31, 2021
The Bandshell in Jackie Robinson Park Bradhurst Ave @ 153rd St (map)
2:00 – 3:15 pm La Banda Ramirez Latin Jazz
3:30 pm to 4:30 pm Les Goodson and Special Guest Lucious Conway
4:45 pm to 6:00 pm John Cooksey, Melvin Vines and Okäru Lovelace, Antoine Dowdell
This concert honors Samuel Hargress, Jr. who opened his jazz club, "Paris Blues" on November 15, 1969, and proceeded to book live Jazz seven nights weekly. With no cover charge, and with a full bar, free buffet, and family hospitality, Paris Blues became widely known as a great jazz bar in Harlem. Visitors from all over the world were treated to a wide range of blues, jazz and Latin jazz, and a regular jam night. Sam said that he named Paris Blues "to honor the city, soldiers and music I grew to love," as he served in the military in post-war Europe, where his grandfather had fought as a member of the Harlem Hellfighters.
This event is sponsored by City Artists Corps, WeAct for Environmental Justice and ZIP Code Memory Project: Practices of Justice and Repair.
DIANA TAYLOR
Reparative Memory: Trauma, Memory, Accountability, and Repair
October 21, 2021

View HERE
What can we do when it seems that nothing can be done and doing nothing is not an option? How do communities hardest hit by COVID-19 transform the traumatic memories of loss into practices of repair? This talk will explore some of the theoretical and practical implications of these questions.
Reparative Memory | Fall 2021
View HERE
Michael Arad, Susan Meiselas, Doris Salcedo, Hank Willis Thomas, Mabel O. Wilson, Graduate School of Architecture, Planning and Preservation. Introduced by Marianne Hirsch and Diana Taylor, co-directors of the Zip Code Memory Project. Moderated by Carol Becker, Dean of Columbia University School of the Arts.
Co-presented by the Center for the Study of Social Difference; Columbia University School of the Arts; Columbia World Projects; The Forum; The Miriam and Ira D. Wallach Art Gallery; The Simon H. Rifkind Center for the Humanities & the Arts at the City College of New York; and The Society of Fellows and Heyman Center for the Humanities.
Virtual Roundtable: Neuroscience, Intergenerational Trauma, Race, & Healing: the Impact of 2020
Tuesday, October 12, 2021
"Neuroscience, Intergenerational Trauma, Race, & Healing: the Impact of 2020" with panelists Angelika Bammer (Emory), Raina Croff (Oregon), Evelynn M. Hammonds (Harvard), Sará King (Oregon), Bianca Jones Marlin (Columbia) and moderators Clare McCormack and Noni Carter.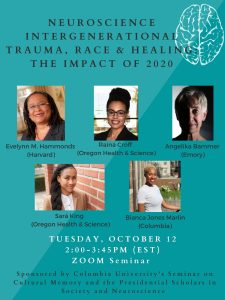 In 2019, the Presidential Scholars at Columbia University under the direction of Clare McCormack held a seminar on the topic of neuroscience and intergenerational trauma, specifically asking how the remote past gets under our skin. (The summary and videos are available here .)
We are enthusiastic to expand the direction of the dialogue with this special panel discussion focusing specifically on issues of intergenerational trauma and healing, neuroscience, and race. We will explore the ways in which activists and scholars have risen to the occasion, translating research into practice as they grapple with the unique historical role 2020 will play in furthering scholarly studies in this field and in expanding various frameworks for trauma healing around the globe. In question, here, are not only the types of insights 2020 will continue to add to ongoing research into various mechanisms of intergenerational transmission, but also the ethical challenges that arise when meeting a historical moment-in-the-making and the role (social justice) care work, inspired by scientific narratives of trauma and memory, will continue to play.