Virtual Roundtable: Reparative Memory

Featuring: Michael Arad, Susan Meiselas, Doris Salcedo, Hank Willis Thomas, Mabel Wilson
Moderated by Carol Becker
How can the devastating but radically disproportionate losses caused by the global COVID-19 pandemic be memorialized? While acknowledging the social inequities and injustices the pandemic has exposed, might local memories of loss and neglect be transformed into a practice of justice and collective healing? What aesthetic memorial forms and strategies of engagement best foster the work of Repair?
This roundtable will approach the urgency of such challenges in conversations between noted artists who have responded to histories of violence and loss in vastly different geo-political contexts. Their visionary memorial projects have mobilized painful memories, leaving space both for mourning and for imagining potential futures. Each of these artists will discuss one project, sharing their process and the challenges faced in creating communities of memory.
This will be the first in a series of conversations on "Reparative Memory" in conjunction with Columbia University School of the Art's theme of "Repair" and the "Zip Code Memory Project," based at the Center for the Study Social Difference.

Virtual Roundtable: Neuroscience, Intergenerational Trauma, Race, & Healing: the Impact of 2020
Please join us on Tuesday, October 12th, 2:00 – 3:45 PM EST (Zoom: https://columbiauniversity.zoom.us/meeting/register/tJUucumorjsuHtIwQba0MK5JD8-AP_AYwDBu) for our seminar entitled "Neuroscience, Intergenerational Trauma, Race, & Healing: the Impact of 2020" with panelists Angelika Bammer (Emory), Raina Croff (Oregon), Evelynn M. Hammonds (Harvard), Sará King (Oregon), Bianca Jones Marlin (Columbia) and moderators Clare McCormack and Noni Carter.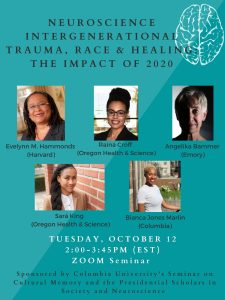 In 2019, the Presidential Scholars at Columbia University under the direction of Clare McCormack held a seminar on the topic of neuroscience and intergenerational trauma, specifically asking how the remote past gets under our skin. (The summary and videos are available here .)
We are enthusiastic to expand the direction of the dialogue with this special panel discussion focusing specifically on issues of intergenerational trauma and healing, neuroscience, and race. We will explore the ways in which activists and scholars have risen to the occasion, translating research into practice as they grapple with the unique historical role 2020 will play in furthering scholarly studies in this field and in expanding various frameworks for trauma healing around the globe. In question, here, are not only the types of insights 2020 will continue to add to ongoing research into various mechanisms of intergenerational transmission, but also the ethical challenges that arise when meeting a historical moment-in-the-making and the role (social justice) care work, inspired by scientific narratives of trauma and memory, will continue to play.
Angelika Bammer is Professor of Comparative Literature and Interdisciplinary Humanities at Emory University.She is the editor of Displacements: Cultural Identities in Question (Indiana UP, 1994) and a special issue of new formations: a journal of culture/theory/politics on The Question of "Home" (1992). A multi-media installation of her work on Memory Sites: Destruction, Loss, and Transformation was shown at both Emory University and the University of Wisconsin-Madison. Her co-edited volume on The Future of Scholarly Writing: Critical Interventions (Palgrave-Macmillan) was published in 2015, as was the expanded and updated new edition of her Partial Visions: Feminism and Utopianism in the 1970s . Her study of the transmission of history across four generations in form of a personal narrative, Born After: A German Reckoning , was published in 2019, and her current project, The Wounds of History and the Work of Memory, explores the connections between what we think of as "our" and "other people's" traumatic histories.
Raina Croff is Assistant Professor of Neurology at the NIA Layton Aging and Alzheimer's Disease Center at Oregon Health & Science University and Chair of the Neurology Diversity and Inclusion Committee. Her work focuses on creating culturally celebratory approaches to physical activity, social engagement, and reminiscence therapy for healthier aging, particularly amidst the trauma of gentrification and its implications for older Black adults' cognitive health and social connectedness. She applies her training as an anthropologist of the African Diaspora to designing brain health interventions that celebrate Black culture, history, and community memory. Dr. Croff leads the Sharing History through Active Reminiscence and Photo-imagery ( SHARP ) Study that blends neighborhood walking and social reminiscence to maintain cognitive health among older healthy and mildly cognitively impaired older African Americans. SHARP has been supported by the Alzheimer's Association, the Centers for Disease Control and Prevention, National Institute on Aging, Alzheimer's Foundation of America, and the Roybal Center for Translational Research.
Evelynn M. Hammonds is the Barbara Gutmann Rosenkrantz Professor of the History of Science and of African and African American Studies at Harvard University. She is the author of Childhood's Deadly Scourge: The Campaign to Control Diphtheria in New York City, 1880–1930 (Johns Hopkins University Press, 1999) and co-editor with Barbara Laslett, Sally G. Kohlstedt, and Helen Longino of Gender and Scientific Authority (University of Chicago Press, 1996). She has published articles on the history of disease, race and science, African American feminism, African American women and the epidemic of HIV/AIDS, and analyses of gender and race in science and medicine and is completing a history of biological, medical, and anthropological uses of racial concepts entitled, The Logic of Difference: A History of Race in Science and Medicine in the United States, 1850 – 1990. She is also completing the MIT Reader on Race and Gender in Science co-edited with Rebecca Herzig and Abigail Bass. In 2005, Professor Hammonds was named Senior Vice Provost for Faculty Development and Diversity at Harvard University, and in March 2008, she was named Dean of Harvard College. She holds an honorary doctorate of humane letters from her alma mater, Spelman College where she also serves on the Board of Trustees.
Dr. Sará King is a UCLA-trained neuroscientist, political and learning scientist, education philosopher, social-entrepreneur, public speaker, and yoga and mindfulness meditation instructor. She has over 20 years of experience as a research scientist, and specializes in the study of the relationship between mindfulness, complementary alternative medicine, community health and social justice. She is currently an NIH-funded post-doctoral fellow in Neurology at OHSU (Oregon Health Science University), a Garrison Institute and Society for Neuroscience Fellow, and the founder of MindHeart Consulting through which she offers up "The Science of Social Justice" framework for healing contemplative research and facilitation. She is also the designer and creator of the "Systems-Based Awareness Map", a theoretical model of the relationship between internal/individual awareness, and external/collective awareness which she uses alongside works of art as a catalyst to discuss the potential impact of intergenerational trauma, debuting in collaboration with the Museum of Modern Art in New York in early 2022 as a part of their very first pilot neuroscience study open to the general public.
Dr. Bianca Jones Marlin is the Herbert and Florence Irving Assistant Professor of Cell Research in the Department of Psychology in the School of Arts and Sciences, the Department of Neuroscience in the Vagelos College of Physicians and Surgeons (CUIMC), and the Zuckerman Institute. Dr. Marlin's research investigates the relationship between the innate and the learned. Dr. Marlin has examined how an organism unlocks an innate behavior at the appropriate time (maternal instinct), and how learned information is passed to subsequent generations via paternal transgenerational epigenetic inheritance. Her work combines neural imaging, behavior, and molecular genetics to understand the transfer of information inherent in neurons of the parent, through the gamete, to neurons of their offspring. Dr. Marlin's goal is to uncover the process in which a learned adaptation can be transmitted across generations, providing innovative insight into elusive mechanisms of evolution. Dr. Marlin's work in elucidating the mechanisms through which learning and emotion in one generation are transmitted, not culturally but rather biologically through DNA, will have profound implications in societal health and mental well-being.
In order to access the zoom meeting link, you will first need to register in advance here . You will then receive a confirmation email with instructions to join the meeting.