Directed by Gabriella Canal and Judith Helfand

TOGETHER NOT ALONE
Directed by Gabriella Canal and Judith Helfand
A Zip Code Memory Project and Judith Helfand Productions Film
RUN TIME 19:47 Minutes
A group of strangers from across three New York City neighborhoods—different ages, races, socio-economic backgrounds, work and life experience – come together after months of Covid-19 isolation to explore, map, paint, shape, recall and bear witness to each others' zip code-determined struggles and imagine justice and repair.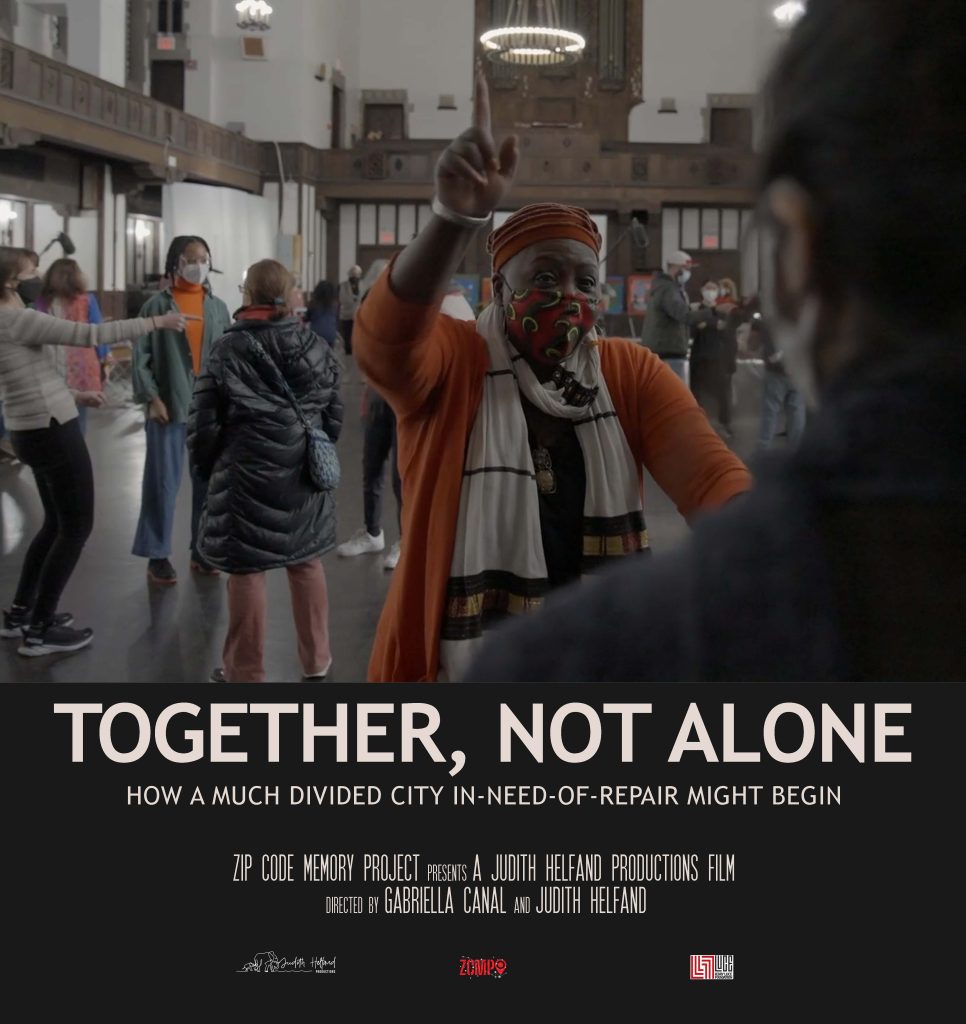 In honor of the third anniversary of the Covid-19 lockdown
Zip Code Memory Project presents a new 19-minute short by award winning filmmakers
Gabriella Canal and Judith Helfand
A NYC Five-Borough World Premiere Tour of TOGETHER, NOT ALONE
Join us for local screenings of TOGETHER, NOT ALONE, accompanied by Covid Stories (short films, oral history-video projects, commissioned micro-docs and photo journalism) from the front-lines of the five boroughs. With gratitude, we will serve food from local restaurants that fed the community during the worst of Covid-19.
Together, Not Alone had its Upper NYC premiere and kicked off its five borough tour at the Museum of the City of New York on February 17, 2023. Onward to the Bronx, downtown Manhattan and Queens. We will soon announce the Brooklyn & Staten Island events that will close out the tour.
Upcoming Five-Borough Tour Events
March 10 6-8 pm The Bronx: Bronx Documentary Center
614 Courtlandt Ave, The Bronx, NY 10451
Partners: Magnum Foundation
March 18 3-6 pm Manhattan: DCTV-Downtown Community Televsion/Firehouse Theatre
87 Lafayette St, New York, NY 10013
March 19 3:30-7pm Queens: Queens World Film Festival & The Local NYC
13-02 44th Avenue, LIC, NY 11101
Local Partners: Queens World Film Festival, Queens Memory Project, A-Doc (Asian American Documentary Network), Union Docs, Five Boro Story Project, Stoop Stories and LaGuardia and Wagner Archives at LaGuardia Community College/CUNY,