The four ZCMP workshops build on each other to create community, work through loss, build trust, and enable healing through acting exercises and games, storytelling, writing and art-making. A culminating public commemoration and exhibition will acknowledge the trauma, grief, and loss of the pandemic while celebrating and, we hope, energizing the communities we live in.
1. Rehearsals for Change
George Emilio Sanchez
This workshop integrates theater games and exercises from Augusto Boal's Theater of the Oppressed with writing and drawing. Our critical aim is to nurture and develop trust among the participants. First, trust within our physical body, the five senses, our emotional landscape, and the reach of the imagination. Secondly, nurturing trust among the participants in building a collective identity. The deeper we can trust ourselves, the greater we can trust each other and the group.
We begin with an in-depth dive into the foundational trust exercises taken from Boal's Games for Actors and Non-Actors. Boal's Image Theater helps us create images around key words and themes with the aim of re-defining how individual and societal power inform and guide our experiences. We use objects, and eventually also our bodies, to create images of power. The workshop culminates in exercises from Boal's Rainbow of Desire, where we create living images and sculptures with our bodies to define and express how oppression looks and feels and how it can be repaired. In free-writing exercises participants are asked to write about their names. We then work in dyads and engage in one-to-one interviews regarding our background as a way to build bridges between us.
Workshop participants work in an interactive, experiential mode that brings people together. A critical element of the workshop is the conversations and questions that we share together as we process our process. Intentionality and accountability become community norms to guide the creative circle we forge in community.
2. Aquí/Here
Maria José Contreras
In Aquí/Here workshop participants have the opportunity to reflect and work collectively on their experiences during the pandemic through performance and mapping practices. Participants are invited to craft different types of maps to reflect on their individual and collective experience of the pandemic and then to embody these maps through movements, gestures and theatrical games.
We start by crafting our individual body-map to identify and locate memories of the pandemic. Our body map allows us to think about the traces the pandemic has left on our bodies, and what our bodies "hold" that may be not in our conscious mind. The body map is a great exercise to allow the emerging of complex, ambivalent and often contradictory memories. We explore and discover ways to re-embody our memories and share them in the common space of the workshop through movement, gestures and poetic language. We then proceed to work on maps of the ZCMP neighborhoods, tracing sensorial maps, imagining trajectories of losses and grief, and envisioning paths to hope. Through theatrical games, the group works through these maps devising ritual embodied gestures for repair and healing.
Workshops participants work both individually and collectively exploring ways to creatively work through the pandemic experience. Our main tools are mapping practices, embodied exercises, theatrical games and collective conversations intended to ground the workshop experience.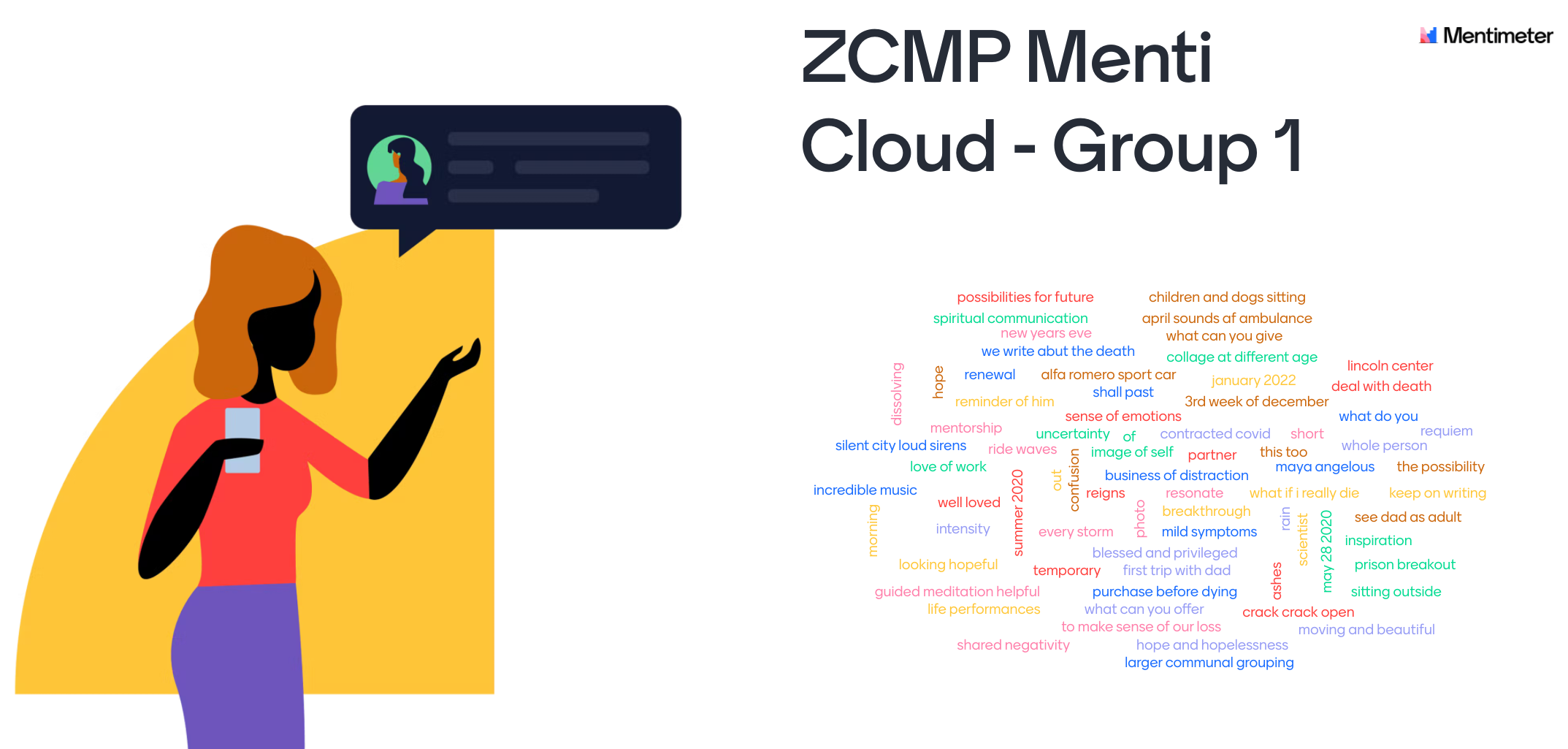 3. Storytelling/Photo/Writing
Kamal Badhey, Noni Carter, Jordan Cruz, Carina del Valle Schorske
This three-part workshop beginning on zoom due to Omicron, and moving to in-person in March, is guiding participants to express their experiences of the pandemic through images and words. Using family and neighborhood photographs, images taken during the workshops, oral storytelling and collective writing initiated in the workshop and from mutual interviews, we are creating stories of loss and resilience. Together, we will be marking communal struggles and hopes as well as imagining strategies for justice and repair. Some of our poetry, letters, spirit cards, collages, and stories will be shared in the final exhibition.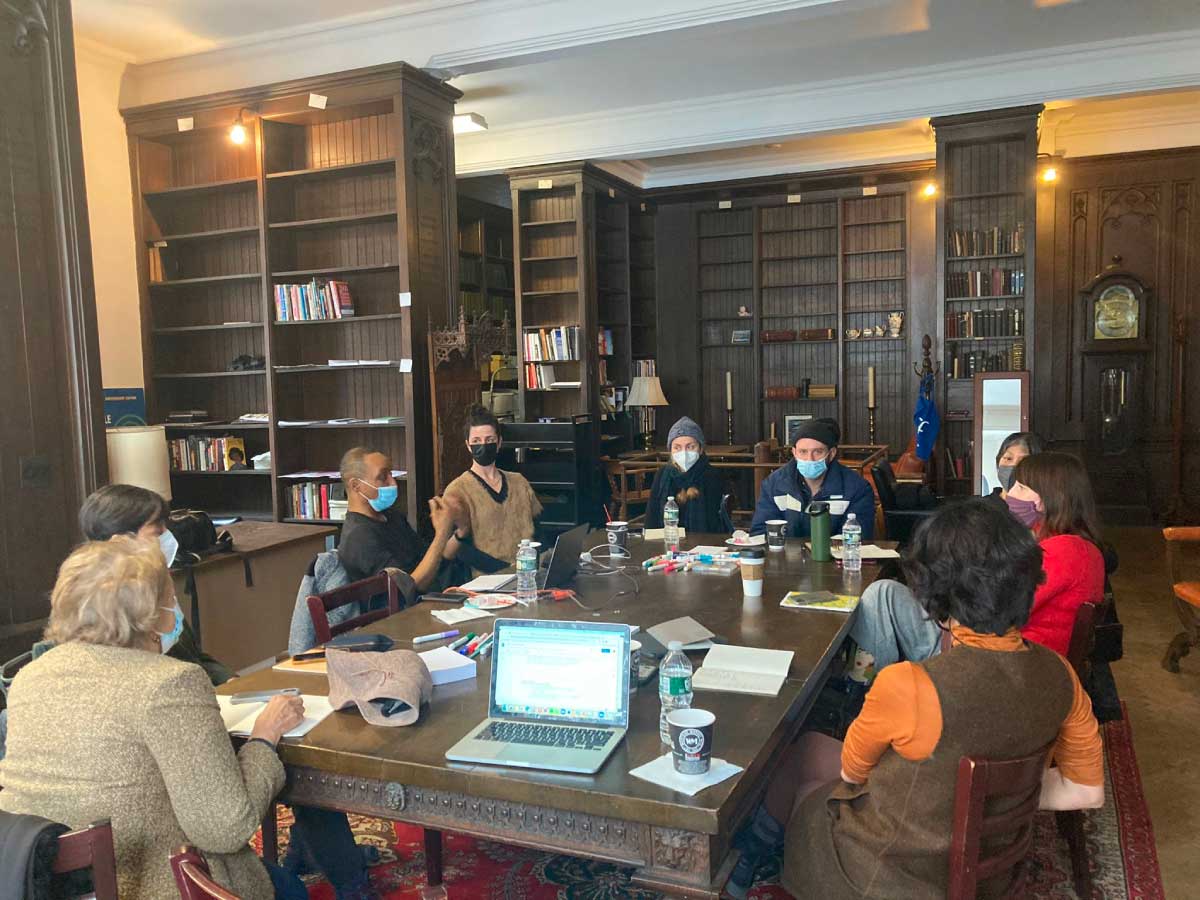 4. "Toward an Exhibition" with Isin Onol
Small groups of participants are working together to think about how individual and group experiences with loss, and projects expressing these, can be amplified and transformed with an eye to our exhibition on April 23. This is a wonderful opportunity to think together about curation, and about how our work with memory, justice and repair can be shaped to reach a larger public. How can the transformative and impactful tools of art mobilize our memories in the interest of justice and repair?
5. Train the Trainers
This workshop consisted of two all-day sessions. In the first session, participants went through a series of exercises, games and techniques from our previous Rehearsals for Change workshop (see Rehearsals for Change Toolkit), emphasizing key aspects of facilitation such as giving clear and precise instructions, demonstrating the activities with the help of volunteers, and asking participants if they have any questions before starting. In the second session, one or two participants at a time were invited to act as facilitators for each of the activities so that we could practice and discuss the challenges of being a facilitator. For example: the importance of being who you are as a facilitator rather than conforming to a particular way of facilitating (00:54); giving clear and precise instructions but always leaving room for choice, because "Theater of the Oppressed is all about participants having a choice" (2:55); and not telling but inviting participants to do something, so that it's up to them to decide what they can and cannot do (4:50). In these two sessions, we hoped to begin transferring some tools from TO to participants of the ZCMP. "The idea of Train the Trainers," as Sanchez said, "is for you to be leading these workshops in whatever place you feel they need to be done" (00:35).