During the first two years of the global Coronavirus pandemic, New Yorkers suffered isolation and devastating loss, much of it caused by inequality and neglect. Yet through the restorative power of artistic collaboration and community, this exhibition dared to Imagine Repair.
How has the pandemic affected our lives? Where, in our bodies, do we carry the uncertainties, anxieties and fears it has provoked? Can we heal and grow together?
Following several months of workshops created by the Zip Code Memory Project, this exhibition offered a space in which we could listen to the voices and stories of New Yorkers and invited us to share our own. We could accompany each other in the work of remembering and grieving, in momentous and intimate instances of pain and of joy. The artists in this exhibition searched for forms that convey their responsibility to bear witness to an extraordinary historical moment. They came together here to express a collective desire for renewed hope and a demand for transformative justice.
The exhibition Imagine Repair was on view at the Cathedral of St. John the Divine from April 23 to May 15, 2022. The exhibition was curated by Işın Önol, in conversations with multiple workshop participants. Aya Labanieh was assistant curator and Yiğit Eygi served as exhibition assistant.

Participating artists: Virginia Ayress | Birim Bademli | Kamal Badhey | Milagros Batista | Erachie Brown | Cathleen Campbell | Gabriella Canal | María José Contreras | Jordan Cruz | Yves Dossous | Leah Kogen Elimeliah | Yiğit Eygi | Judith Helfand | Chelsea Knight | Sonja Jean Killebrew | Seçil Koman | Candance Leslie | Sandra Long | Rafael Lozano-Hemmer | Susan Meiselas | Zahied Tony Mohammed | Jim Mutton | Lorie Novak | Desiree Rios | Ana-Ofelia Rodriguez | Eloisa Royal | Rafaelina Tineo | Carrie Mae Weems | Deborah Willis | Zip Code Memory Project Participants

We are grateful to the Cathedral of St. John the Divine for their generosity in hosting Imagine Repair.

The exhibit was featured in The New York Times in a May 2022 review of exhibitions and events that marked Covid losses.

Special Thanks to Juan Arias, Sophus Helle, Fahmida Hussain, Mathew Paul Jinks, Olivia Kay Deming, Sungyoon Lim, Tobias Önol-Nöbauer, Marian Padron, Alex Pekov, Lindsey Michele Schram, Alex Spitzer, Chloë Spitzer, Leo Spitzer, Travis Spitzer, Andréa Stanislav, Beka Stecky
EXHIBITION ARTWORKS
BİRİM BADEMLİ
Mapping Bodies in Concert, 2022
Animation
45 seconds loop
During our ZCMP workshops with María José Contreras, participants were asked to trace an outline of their bodies on a blank sheet, and mark that outline with the places where they feel the experience of COVID. Birim Bademli collected these body maps in one animation loop, delicately weaving the details of these manifold bodily expressions into one another, and in the process transforming them into one rich and all-encompassing map. This composite work speaks to a deeply individualized and yet collectively embodied emotional experience, ranging from sharp physical pain to resignation, stress, fear, as well as self-knowledge and hope.
Birim Bademli is a visual artist and animator, born in Istanbul and now based in New York City. She has a deep love for design, and uses her art to capture the gloomy atmosphere of a historical moment—such as the pandemic—and imagine its positive or transformative potential.
---
KAMAL BADHEY
Let Your Heart Not Be Troubled, 2020-2022
Photograph series accompanied by text
14" x 11", 7" x 5″, 10" x 8″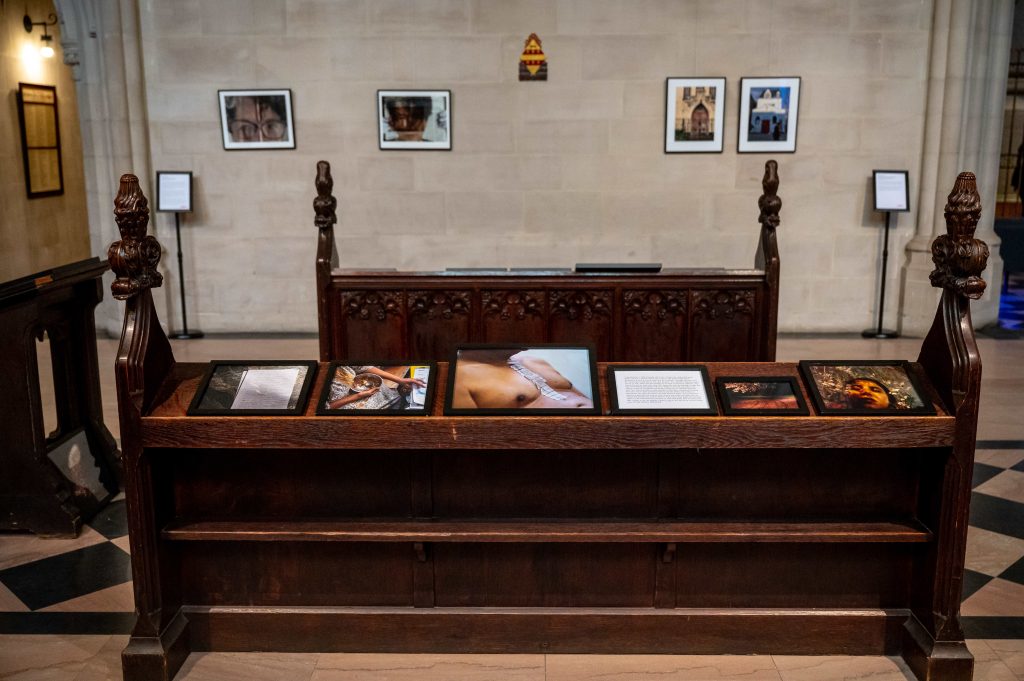 Before the pandemic I had been living in an apartment with roommates for 4 years. Before lockdown, my brother had me move in with my parents in Long Island. I was not too happy about the idea, but ended up going through with it. My dad was around 80 years old at the time, and was working as a physician in Wyckoff Heights Brooklyn. Due to his age, we tried to convince him not to work, but he was adamant that he loved his job. In those pandemic months, I felt like the guardian for both of my parents. My dad continued working at several nursing homes, but one day he suddenly experienced a sharp pain. A physician himself, he knew something was going on. He immediately went to a doctor, and we found out right then that all his arteries were clogged. My dad went through an emergency surgery followed by three months of recovery. Relatives far and wide told him it was time to retire, but he really struggled with that decision. This series of photographs of my mother and father were taken by me as I was living with them during the pandemic for two years. My mom and I helped my dad through his recovery, just as he had helped so many of his patients through theirs. Much of the series concerns itself with the period in which he underwent heart surgery, but also about our everyday lives together before and after.
Kamal Badhey is a photographer, artist-educator, and independent curriculum designer of South Asian ancestry. She is a member of the Urban Photographers Association and South Asian Women's Creative Collective. Her work intersects with diaspora, using photography, oral storytelling, and family history to stitch together intimate stories.
---
ERACHIE BROWN
In the Beginning, The Battle, Reconstruction Period, The Healing, & Commander of Your Destiny, 2020-2022
Acrylic paintings
16" x 12", 16" x 12", 16" x 12", 30" x 24", 16" x 12"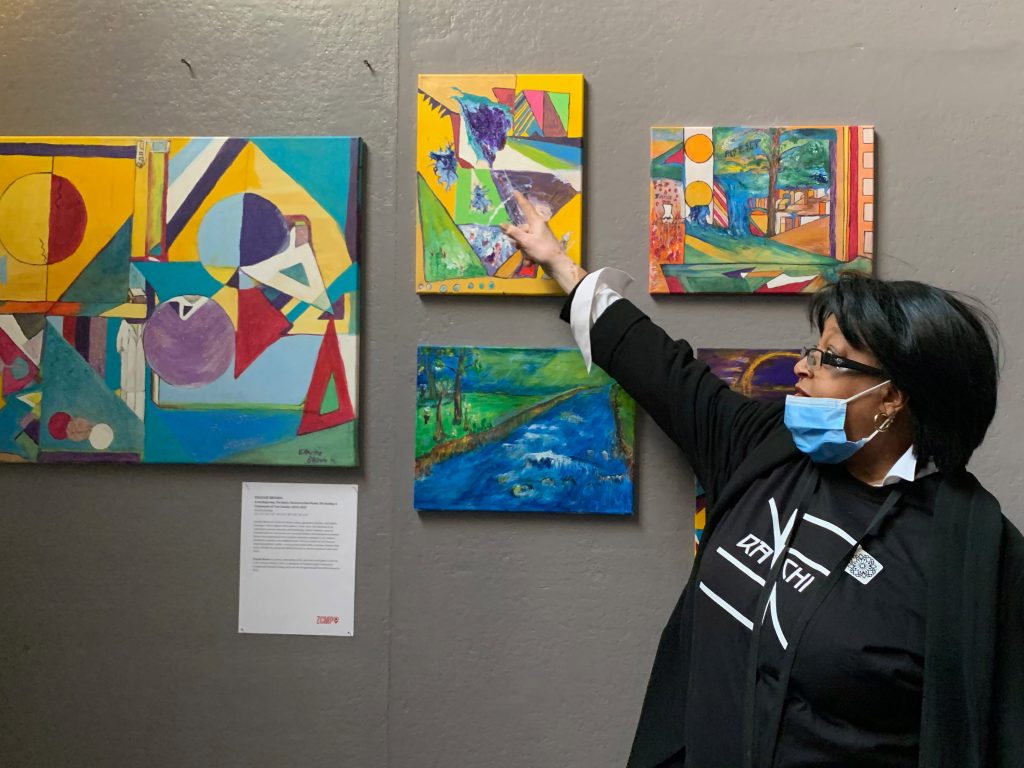 Erachie Brown is a lover of vibrant colors, geometric puzzles, and hidden messages—three aspects that capture, in her view, the intensity of an individual's journey towards self-knowledge. In her nineteen years of hospital work as a nurse and care associate before and during the pandemic, Brown has experienced first hand the injustices rampant in our nation's healthcare systems and neighborhoods. Art is an outlet for her from an ongoing pandemic reality—a way to reconnect with a creative impulse that exists outside the structures that surround us, and to reconnect with each other.
Erachie Brown is a nurse, community artist, and avid participant in the Zip Code Memory Project. She is a graduate of Kingsborough Community College and Lehman College, and won the Kingsborough Best Artist Award in 2013.
---
CATHLEEN CAMPBELL
From Grief to Gratitude, 2021
Video & diptych photographs
2 minutes, 46 seconds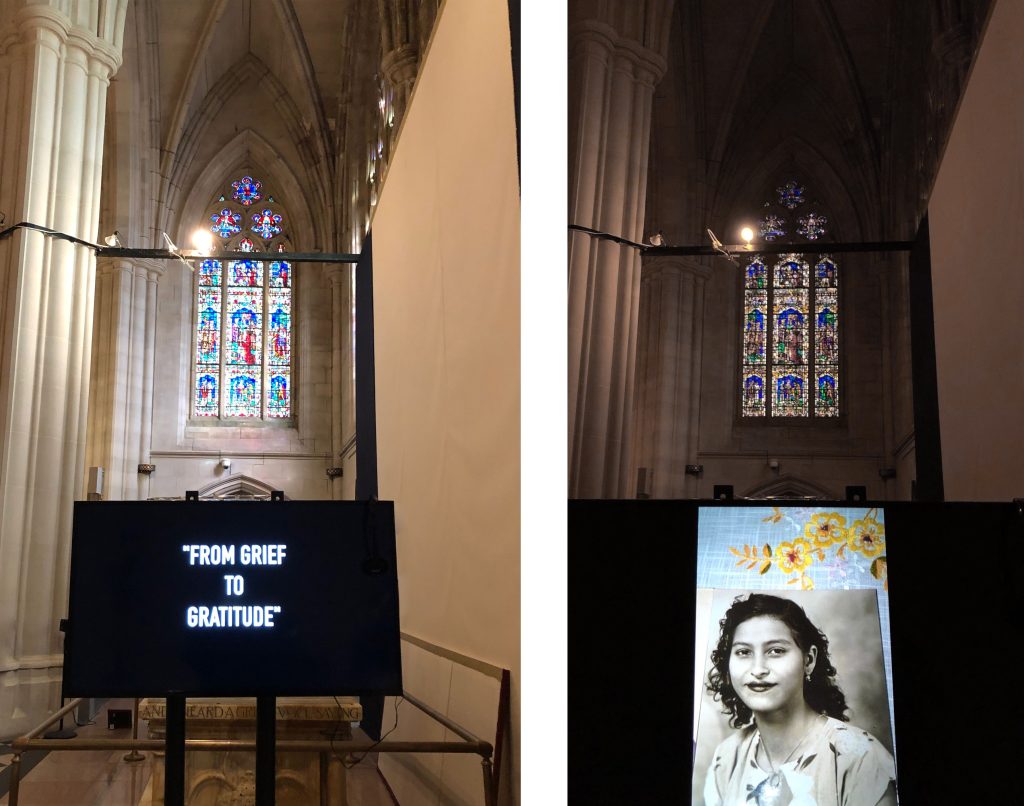 Campbell's video & photo series are a tribute to a "Future Community Garden"— a local community project dedicated to loved ones lost during the pandemic years. It is the kind of memorial intended to nurture the bodies and spirits of those left behind: the pandemic survivors who honor the lives of their family members, especially the elderly most afflicted by the virus, by tending to the seeds and saplings until they can bear fruit for the neighborhood. The garden serves as a symbol for the family elders that many have lost to COVID: they, too, planted their children into the New York City earth and tended to them, knowing they may never live long enough to see the fruits of their labor. Campbell intersplices photographs of these older family members with video clips of their children, grandchildren, and friends caring diligently for the garden and watching it bloom.
Cathleen Campbell is a photographer and filmmaker. Her photos and films have been featured in numerous group shows, a solo exhibition at the West Harlem Skills Training Center in 2019, The Nation magazine in 2020, and "The Way We Remember" exhibit at the Wallach Art Gallery in 2021. She's now completing "MAMITA" , a one-hour documentary from her COVID Memorial Portrait Series.
---
JORDAN CRUZ
Lamento, 2020
Sculpture, 3′ x 2′ x 6″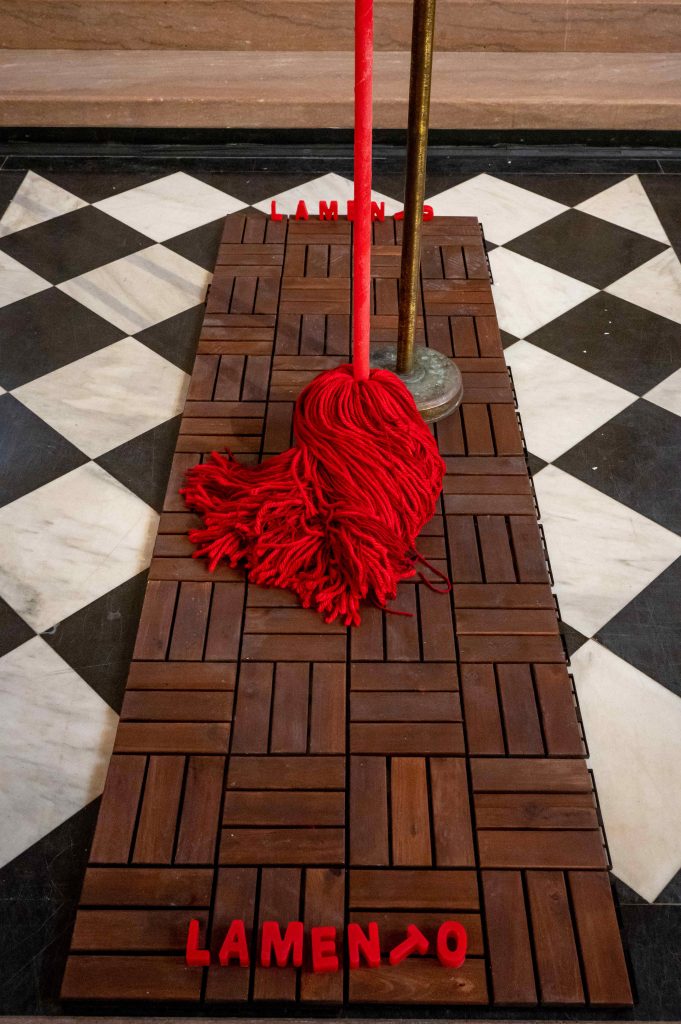 Lamento, 2020, is a site-specific installation created in response to the ongoing exploitation of essential workers throughout the COVID-19 pandemic. The piece references the words "Lo Lamento," an expression used in moments of deep regret or mourning. The votive wax candle letters are lit and allowed to melt into parquet-style wood tiles. Each letter is replaced as it melts down, and the word is remade. The melted wax puddle causes the mop poll to adhere to the floor beneath it, trapping the object in its place and preventing the mess from being cleaned.
JORDAN CRUZ
Untitled (locked-in from out), 2020
Sculpture, 7.75" x 3.5" x 2.5"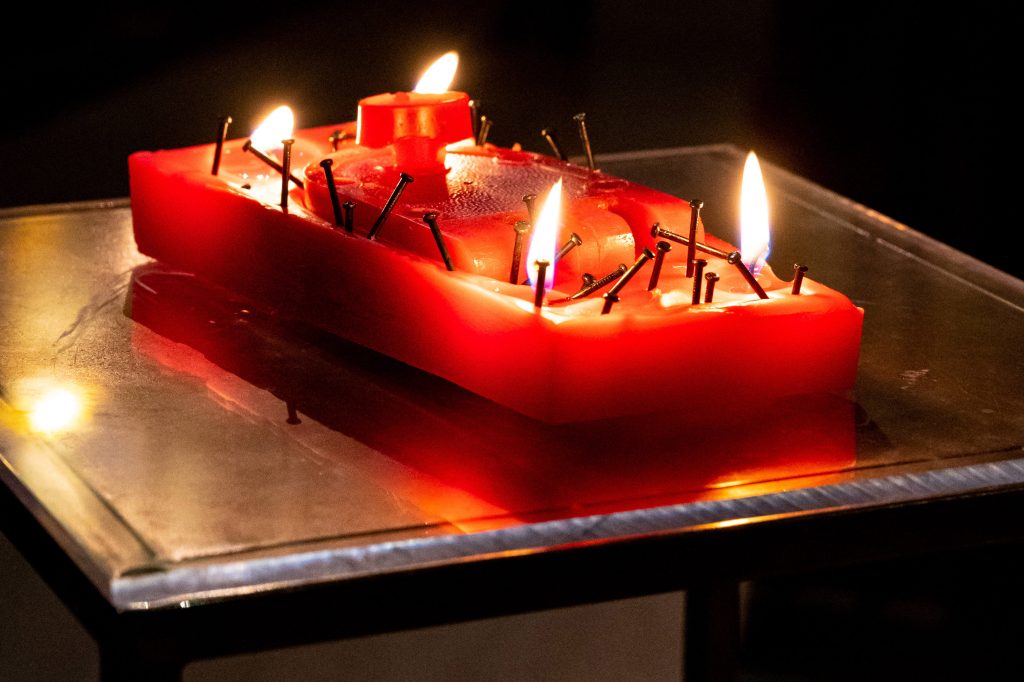 Untitled (locked-in from out), 2022, is a meltable votive sculpture made in response to the COVID-19 lockdown. This site-specific piece is formed in the shape of a standard park brick, red votive wax, and other ephemera collected over several months. As the brick melts in tribute, these objects emerge, releasing the tensions and emotions built up throughout the pandemic.
Jordan Corine Cruz is a Puerto Rican interdisciplinary artist working in sculpture, installation, photography, video, and sound. Using traditional materials, imagery, and layered sound as cultural signifiers, Cruz creates interactive spaces and objects that focus on the intersections between self-identification, labor, gender, and displacement. Her work has been shown in Haul Gallery, SoMad Studio, La Mama Galleria, and SVA Chelsea Gallery, and she was granted the BRIO award by the Bronx Council on the Arts in 2020.
---
MARÍA JOSÉ CONTRERAS
Talk to the Future, 2022
Durational performance piece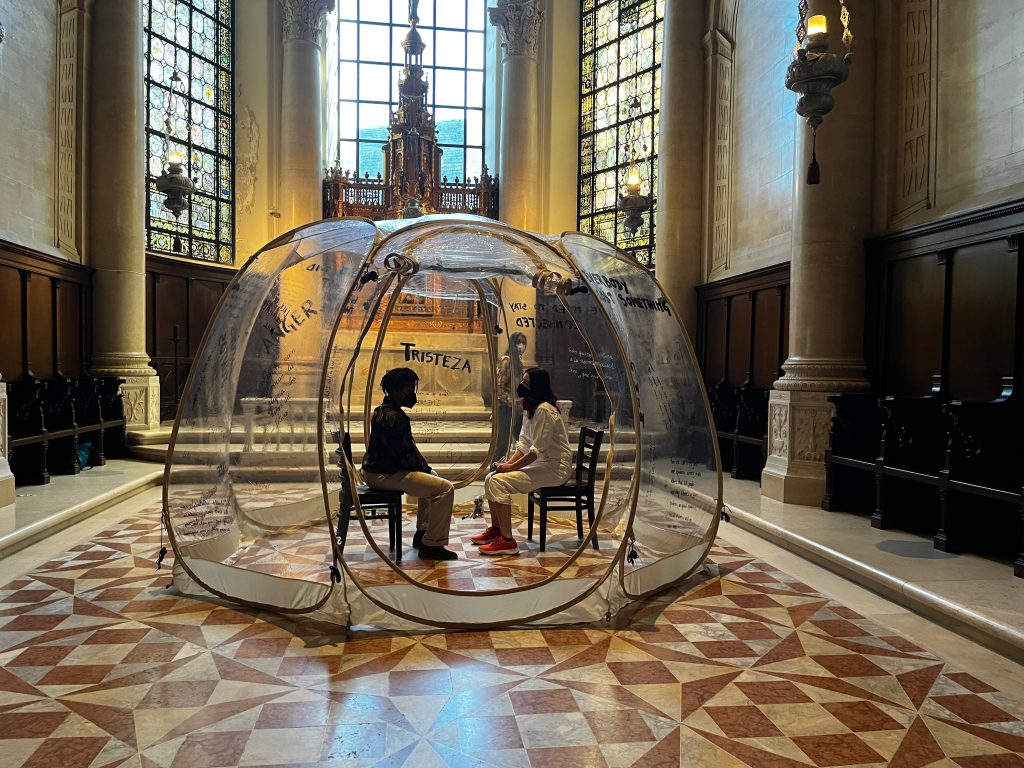 In this durational interactive performance, María José Contreras sits inside a transparent bubble that calls to mind the transparent plastic enclosures we have grown so familiar with during the pandemic–– the ones that allowed families to dine outdoors at restaurants or to interact with their elderly or at-risk relatives. Through these resonances, the bubble transports us to a traumatic time in our collective past, and yet, as a time-capsule, it can be filled with the aspirations of the present moment—aspirations that reach toward the future. Contreras engages in intimate conversations with those who enter the time-capsule and join her to "talk to the future." She writes and draws what they express on the clear walls of her bubble. Gradually, the bubble fills with texts and images—blueprints for a post-pandemic future that we have yet to see.
María José Contreras Lorenzini is a Chilean performance artist and scholar. She holds a Ph.D from Università di Bologna, serves as Associate Professor at the Theater School at Universidad Católica de Chile, and is currently an Associate Professor of Theater at Columbia School of the Arts. Contreras' work explores the relationship between the body and memory, drawing on a wide range of formats from massive public interventions to intimate actions of resistance.
---
GABRIELLA CANAL & JUDITH HELFAND
Zip Code COVID Memories, 2021-2022
Video documentary clips, 13 minutes, 50 seconds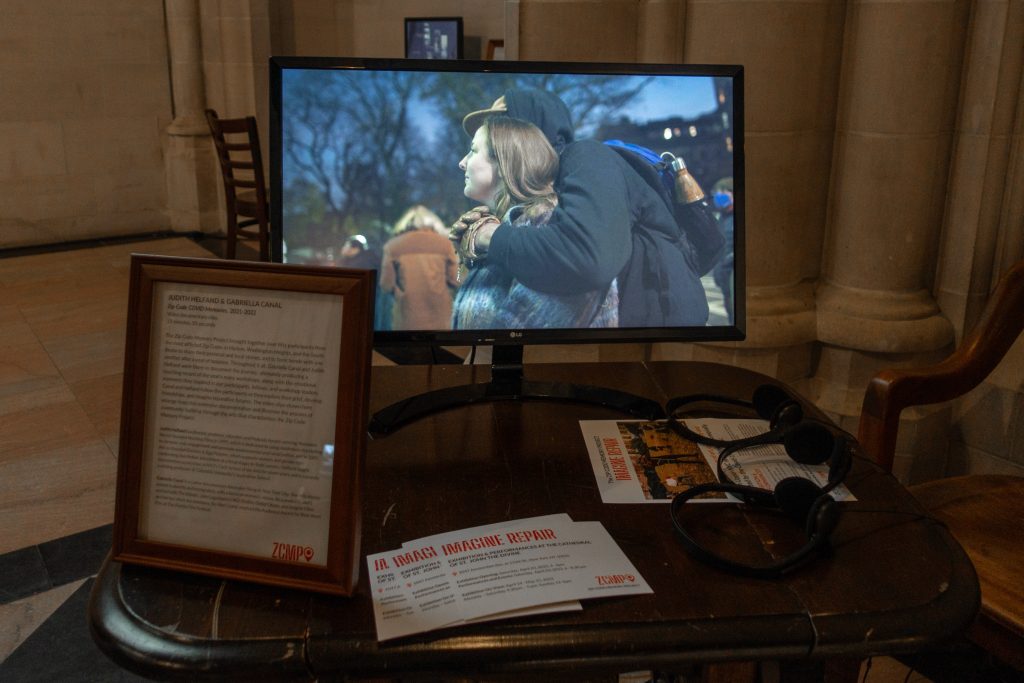 The Zip Code Memory Project brought together over fifty participants from the most afflicted Zip Codes in Harlem, Washington Heights, and the South Bronx to share their personal and local stories, and to form bonds with one another after a year of isolation. Throughout it all, Gabriella Canal and Judith Helfand were there to document the journey, ultimately producing a touching record of the year's many workshops, along with the emotional moments they inspired in our participants, fellows, and workshop leaders. Canal and Helfand follow the participants as they explore their grief, develop friendships, and imagine reparative futures. The video clips shown here emerge from this extensive documentation and illustrate the process of community building through the arts that characterizes the Zip Code Memory Project. (View the film Together, Not Alone)
Gabriella Canal is a Latinx documentary filmmaker living in New York City. She tells stories rooted in identity and immigration, with a focus on women's voices. As a producer, she's worked with The Atlantic, John Leguizamo's NGL Studios, Global Citizen, and Insignia Films, and her last short documentary, No Man's Land, received the Audience Award for Best Short Film at The Florida Film Festival.
Judith Helfand is a director, producer, educator, and Peabody Award-winning filmmaker. She co-founded Working Films in 1999, which is dedicated to using nonfiction storytelling to increase civic engagement and promote environmental and racial justice, and in 2005 she co-founded Chicken & Egg Pictures, which supports women and gender non-conforming non-fiction storytellers at critical stages in their careers. Helfand has taught documentary production at NYU's Tisch School of the Arts, Columbia School of Journalism, Wayne State University, and the School of Visual Arts.
---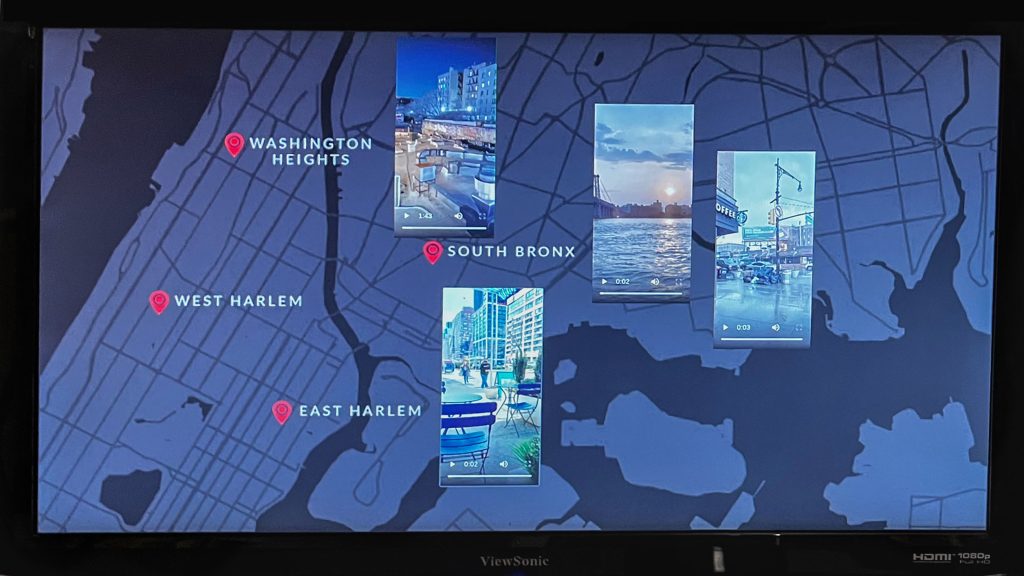 LEAH KOGEN ELIMELIAH, YVES DOSSOUS, YIGIT EYGI, ERACHIE BROWN, & SONJA JEAN KILLEBREW
Lost New York Covid Story Map
Listen online
What is a New York City COVID-19 experience? There is no singular narrative that captures them all—every one of us has a personal story to share. We faced hardships, losses, changes, fears and uncertainties during these past two years, and continue to live with the aftermath. To build this Lost COVID Story Map, the five collaborating artists interviewed their neighbors, especially those whose voices were most likely to be ignored. For the artists, this map was a way of opening the community door. They hope that those outside their neighborhoods will enter and listen.
Yves Dossous is an audio-visual technician who designs and engineers television and radio podcast studios for training facilities. As an Adjunct Lecturer, Yves teaches production courses in media technology for The Journalism and Media Studies Department in CUNY. He enjoys watching the growth of his former college students as well as his five rambunctious grandchildren.
Leah Kogen Elimeliah is a poet, essayist, short story and nonfiction writer from Moscow, currently living in New York City. She is an MFA candidate at City College of New York, the Founder and Director of WordShedNYC Reading Series and an Editorial Associate for Fiction literary magazine. Leah's work was featured on The Red Stage organized by Creative Time, The NYC Poetry Festival, and The Higher Ground Arts Festival.
Yiğit Eygi is a media artist and designer who recently completed his masters degree at The New School. Artificial soundscapes and designs are his focus, and finding new forms of expression are his life passion.
Erachie Brown is a nurse, community artist, and avid participant in the Zip Code Memory Project. She is a graduate of Kingsborough Community College and Lehman College, and won the Kingsborough Best Artist Award in 2013.
Sonja Jean Killebrew is a writer, educator, and self-appointed oral historian. She completed her MFA in creative writing in 2020 during the COVID-19 pandemic. After attending no less than eight funerals on Zoom in 2020 and 2021, Sonja decided to begin an oral history project memorializing the lives of Black Americans lost to COVID-19.
---
CHELSEA KNIGHT with CANDACE LESLIE, SANDRA LONG, & ZAHIED TONY MOHAMMED
Depository of Anonymous Feelings, 2022
Interactive Audio installation, Listen Online
Hardware Design: JinksHQ, Mathew Paul Jinks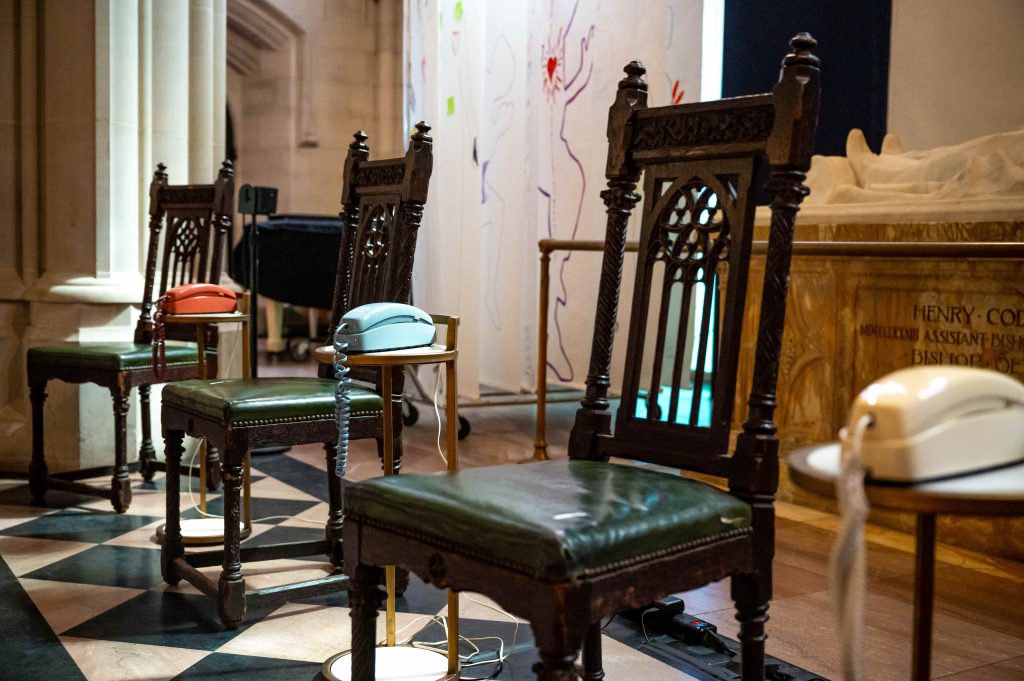 During lockdown, the phone was one of the only means through which we could connect with loved ones. Recalling this moment, this project solicits anonymous callers from all over New York City to call (917) 781-4612. They are given four prompts to choose from:
"Have a story about the pandemic you want others to hear?"
"An important moment in time from the past two years you want to describe?"
"Want to say something about your COVID experience that you've been afraid to share?"
"Want to sing a song that got you through the pandemic?"
Pick up your cell phone and call to share your anonymous feelings, or pick up the phone in the exhibition and listen to the recorded stories and songs.
Chelsea Knight is an artist working in video and performance. Her recent work approaches social change through small gestures of intimacy and pursues narratives that exist outside of the mainstream mediascape. She is interested in the relationship of humans to memory, music, and screens. Knight's solo exhibitions and screenings include The New Museum (NY), The St. Louis Art Museum (MO), The Brooklyn Museum, The Julia Stoschek Collection (Düsseldorf), and DiverseWorks (Houston).
Candace Leslie is a visual artist exploring the symbiotic relationships evident in motherhood, haircare, and the manifold forms of blackness. As a self-taught oil painter and collage artist born and raised in Columbus, GA, she has cultivated a strong appreciation for plant life, natural elements, as well as fable and folklore. Her work has been featured in the Hair @Ely group exhibition at the Ely Center for Contemporary Art as well as the West Harlem Arts: Resilience Exhibition.
Sandra Long is a native of New York City with affiliation, engagement, and a long-term vested interest in the development of multiple New York City communities. She is an active member of multiple national organizations and is a life-long learner, currently working to encourage and promote the United Nations' international-global priorities and political awareness, including COVID-19 vaccine education initiatives.
Zahied Tony Mohammed is a New York City-based and self-taught artist from Trinidad & Tobago. He considers his art an autobiographical account of his struggles and victories, and has been featured in exhibitions at the Gateway Gallery, Montserrat Gallery, Jade, Art Expo New York, and Rio II Gallery.
---
SEÇİL KOMAN
Window Log, 2020-2022
Video installation
9 minutes, 11 seconds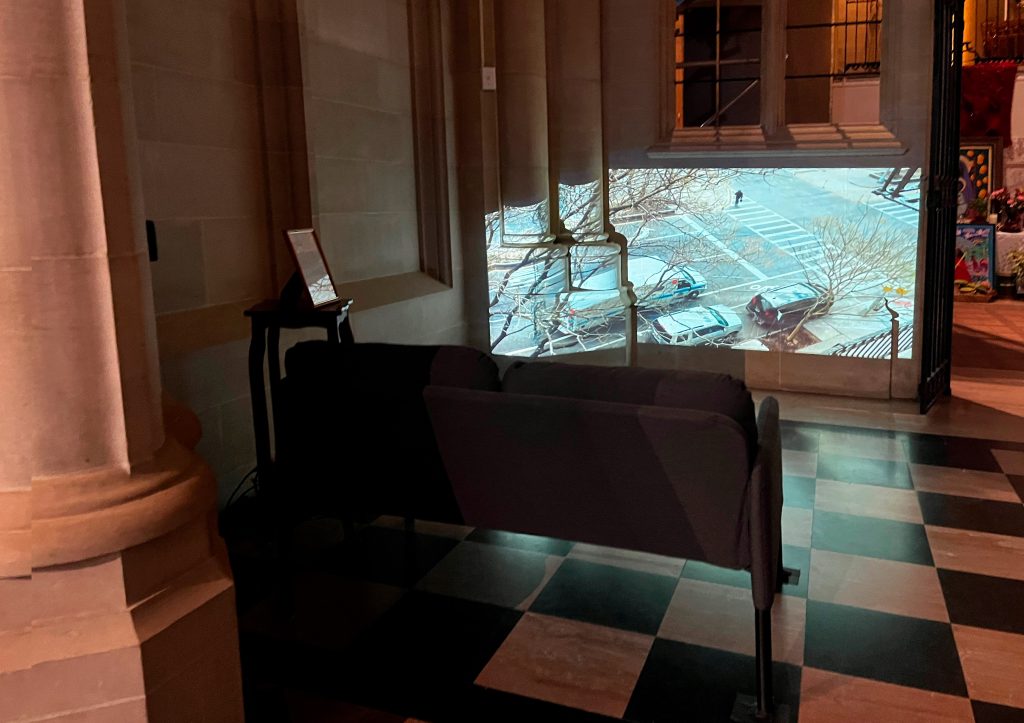 During the height of COVID lockdown, the artist was glued to two types of screens: the windows of their homes, and the surfaces of their laptops and phones. These two "screens" were the only mediums through which to access the outside world: to commune with others, to find out the latest news, to mark the passage of time. In this work, Koman recreates the pandemic window peering down on her Harlem neighborhood. This work catalogs the events she witnessed: Black Lives Matter protests, blaring ambulances, the clanging of pots and pans at sunset, and more. The projection of these events onto a window-like structure highlights how our laptop screens and living room windows merged during lockdown—the smallest and most socially distanced loopholes in what was otherwise the most lonely and isolating period of our lives.
Seçil Koman is a visual artist from Turkey, based in New York. She seeks to express her experiences, existential inquiry, and observations through contemporary art and, through it, to engage today's global consumption society. A particular focus of her work is how it feels to be a woman in repressive societies.
---
CANDACE LESLIE
Quarantine at Home Series No 1, 2021
Oil on linen painting, 12" x 12"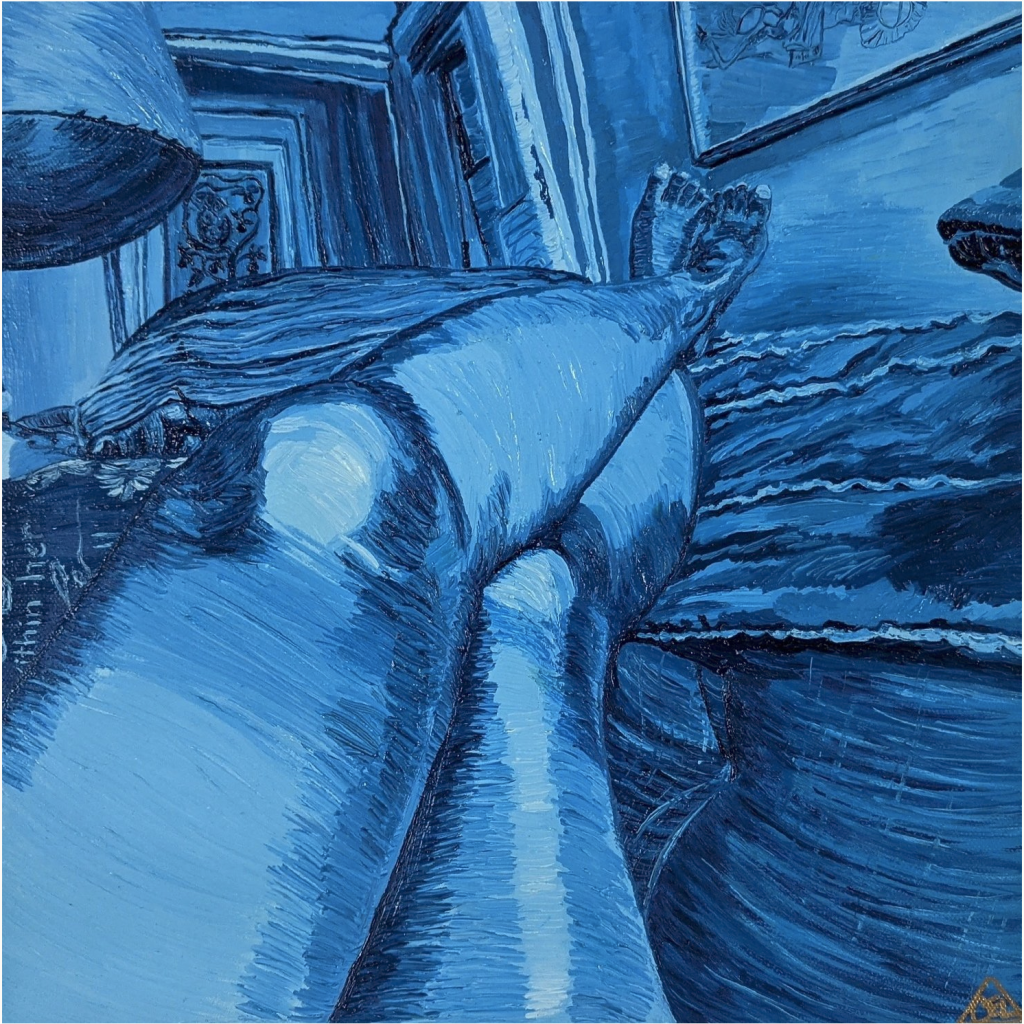 This painting is the first in a series of paintings capturing moments from neighborhood walks, local greenery, and intimate home-life—moments that helped mitigate the isolation of quarantine during the COVID-19 pandemic. Legs extrude from the far right—a figure casually reclines on a couch within a living room. The cool tones of the blue and flowing brush strokes in the throw pillows and legs suggest a fleeting instant of languid self-reflection.
Candace Leslie is a visual artist exploring the symbiotic relationships evident in motherhood, haircare, and the manifold forms of blackness. As a self-taught oil painter and collage artist born and raised in Columbus, GA, she has cultivated a strong appreciation for plant life, natural elements, and fable and folklore. Her work has been featured in the Hair @Ely group exhibition at the Ely Center for Contemporary Art as well as the West Harlem Arts: Resilience Exhibition.
---
RAFAEL LOZANO-HEMMER
A Crack in the Hourglass, 2020-Ongoing
A Memorial for the Victims of COVID-19
With special thanks to the Brooklyn Museum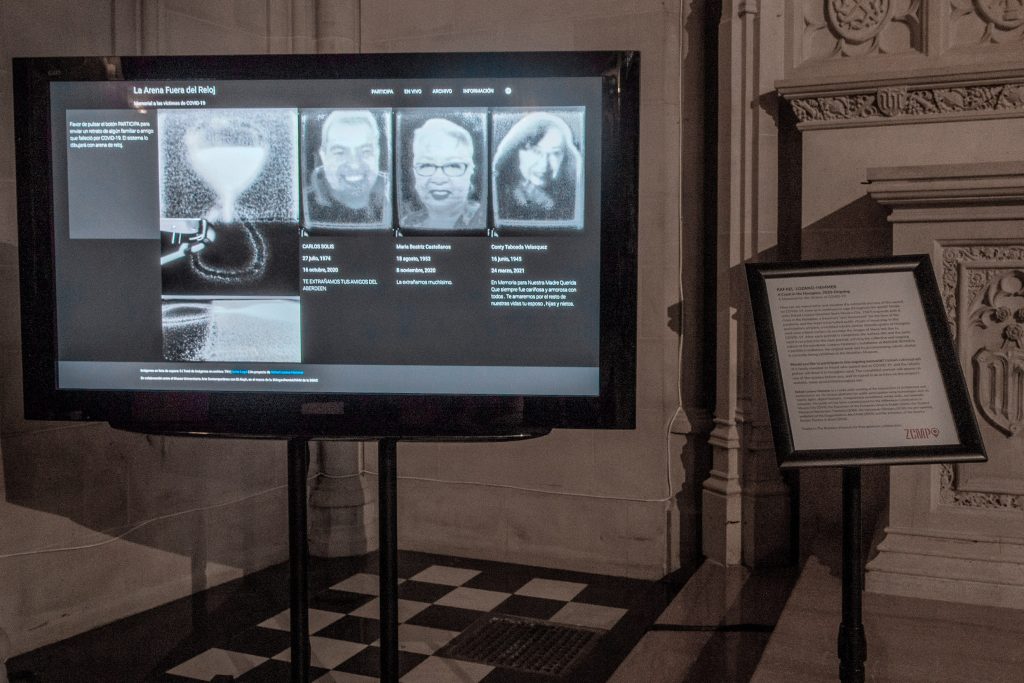 How can we memorialize and visualize the extraordinary loss of life caused by COVID-19, even as it continues to rage throughout the world? Media artist Rafael Lozano-Hemmer (born Mexico City, 1967) responds with A Crack in the Hourglass, a transitory "anti-monument" for the time of the pandemic and the ways it has halted public rituals of mourning. In this participatory artwork, a modified robotic plotter deposits grains of hourglass sand onto a black surface to recreate the images of those lost due to COVID-19. After each portrait is completed, the surface tilts and the same sand is recycled into the next portrait, echoing the collective and ongoing nature of the pandemic. Lozano-Hemmer's installation at IMAGINE REPAIR is a satellite installation; the original work and its accompanying robotic plotter was concurrently exhibited at the Brooklyn Museum.
Would you like to participate in this ongoing memorial? [click here] Upload a photograph of a family member or friend who passed due to COVID-19, and the robotic plotter will draw it in hourglass sand. The completed portrait will appear on one of the screens before you, and be stored in an archive on the project's website (www.acrackinthehourglass.net)
Rafael Lozano-Hemmer is a media artist working at the intersection of architecture and performance art. He creates platforms for public participation using technologies such as robotic lights, digital fountains, computerized surveillance, media walls, and telematic networks. His public art has been commissioned for the Millennium Celebrations in Mexico City (1999), the Expansion of the European Union in Dublin (2004), the Student Massacre Memorial in Tlatelolco (2008), the Vancouver Olympics (2010), the pre-opening exhibition of the Guggenheim in Abu Dhabi (2015), and the activation of the Raurica Roman Theatre in Basel (2018).
---
SUSAN MEISELAS
Moe Door Memorial, 2020-2022
Diptych photographs, 30" x 40"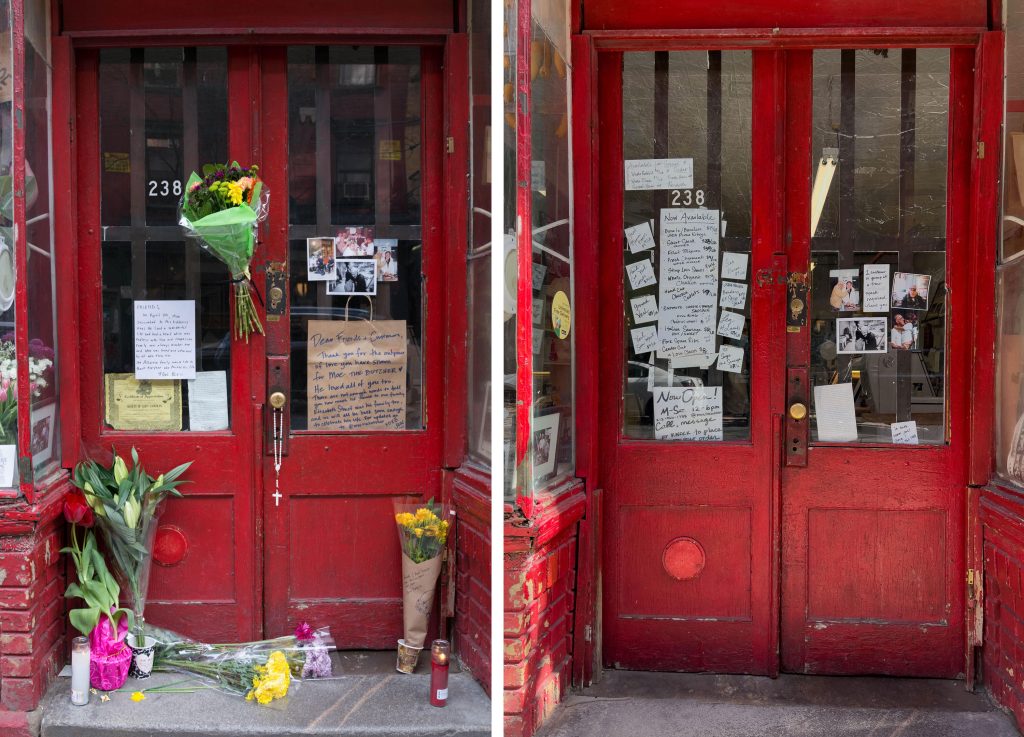 We are painfully familiar with the stories of pandemic loss that strike in the most intimate of places: parents, grandparents, aunts, uncles, partners, friends. Yet, Susan Meiselas' piece pushes us to wonder about our outer social circles: How many acquaintances, local grocers, bodega owners, cross-street neighbors, and warm passersby were also lost to this virus? The people we cherish in our cityscape, but who died alone with no funeral to honor them? In her photographs, Meiselas shares her local butcher's door—one that has been transformed into a neighborhood memorial shortly after his passing from COVID-19. Though most of this exhibition's visitors might not have known Moe Albanese personally, we are all invited to remember those individuals who tangentially touched our lives. Moe's granddaughter, Jennifer Prezioso, is committed to carrying on Moe's tradition in the Little Italy community that his family has served since 1923.
Susan Meiselas is a documentary photographer based in New York. She is well known for her documentation of human rights issues in Latin America, and her photographs are included in North American and international collections. In 1992 she was a MacArthur Fellow, received a Guggenheim Fellowship (2015), the Deutsche Börse Photography Foundation Prize (2019), and received the first Women in Motion Award from Kering and the Rencontres d'Arles.
---
ZAHIED TONY MOHAMMED
Isolation with the New York Times, 2022.
Box & text, 10.5" x 13" x 6.75"
I was inspired to do this piece using a wooden box. The box represents the room in which I stayed when I contracted COVID-19 in December 2021. Copies of The New York Times are embedded into the box. I used clipping from headline news dated from December 2021 to January 2022. I was fortunate enough to be able to read The New York Times on my mobile and laptop. The black lines embody the grim days during isolation and the silver lines signify the road that will lead us to the rainbow, which is located on the back of the box. I am optimistic that with courage, peace and kindness during these challenging times we will flourish.
Zahied Tony Mohammed is a New York City-based and self-taught artist from Trinidad & Tobago. He considers his art an autobiographical account of his struggles and victories, and has been featured in exhibitions at the Gateway Gallery, Montserrat Gallery, Jade, Art Expo New York, and Rio II Gallery.
---
JIM MUTTON
On Love, 2021
Photo & poetry book, 6" x 6"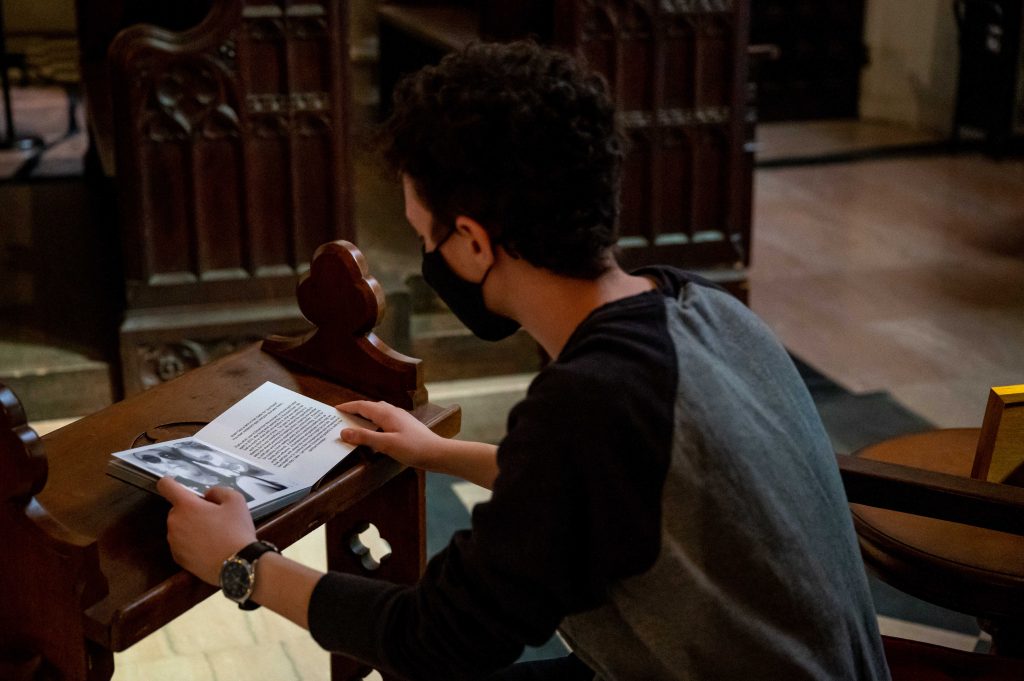 On June 20, 2020 I took my wife, Gricel Okazaki to the ER at Columbia Presbyterian Hospital. She was diagnosed with acute promyelocytic leukemia and admitted to the inpatient unit. She battled in a hospital bed for 20 weeks, never to return home, passing away on the day of her 48th birthday on November 10, 2020. Her heroism knew no bounds.
This book of romantic poetry written during our ten year relationship is dedicated to Gricel and the memory of our love. Que viva el amor!
A resident of Washington Heights, Jim Mutton came to New York from Northampton, England in 1989 with $500 and a suitcase. He has since worked as a social worker with numerous marginalized populations recovering from mental illness, homelessness, and associated traumas. Jim currently serves as a Director of NYC Operations at Concern Housing, a leader in the development and operation of supportive housing on Long Island and in NYC for the past 50 years. When not working, he loves running, writing poetry, and keeping bees.
---
LORIE NOVAK
Lives Lost on Two Cruel Days, 2020
The Human Toll (May 24, 2020), 2020
Ink jet prints, 16" x 20"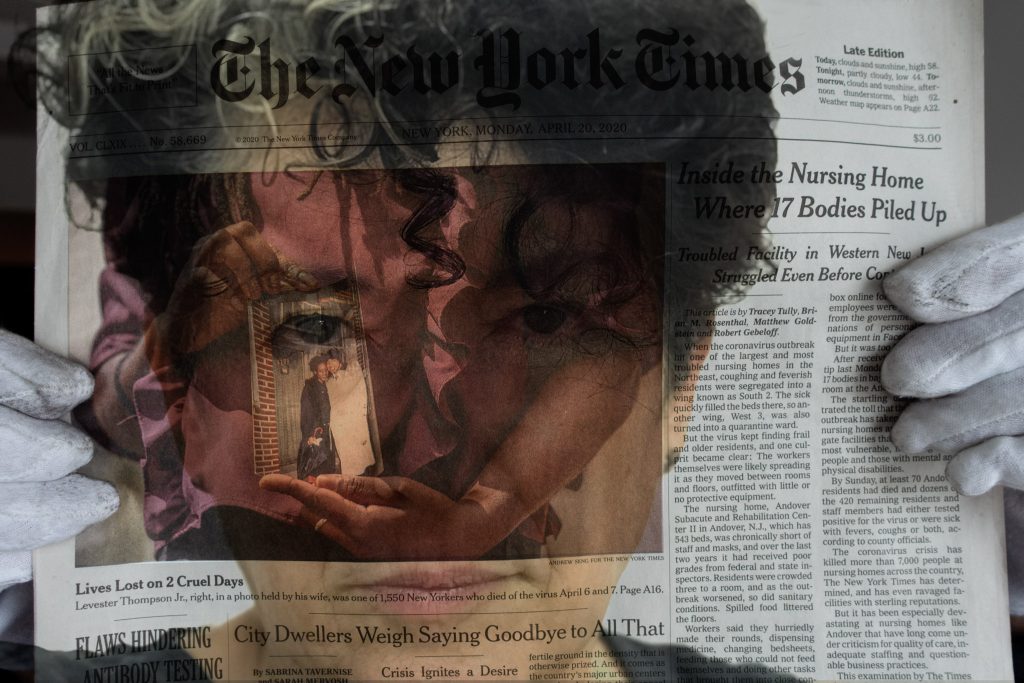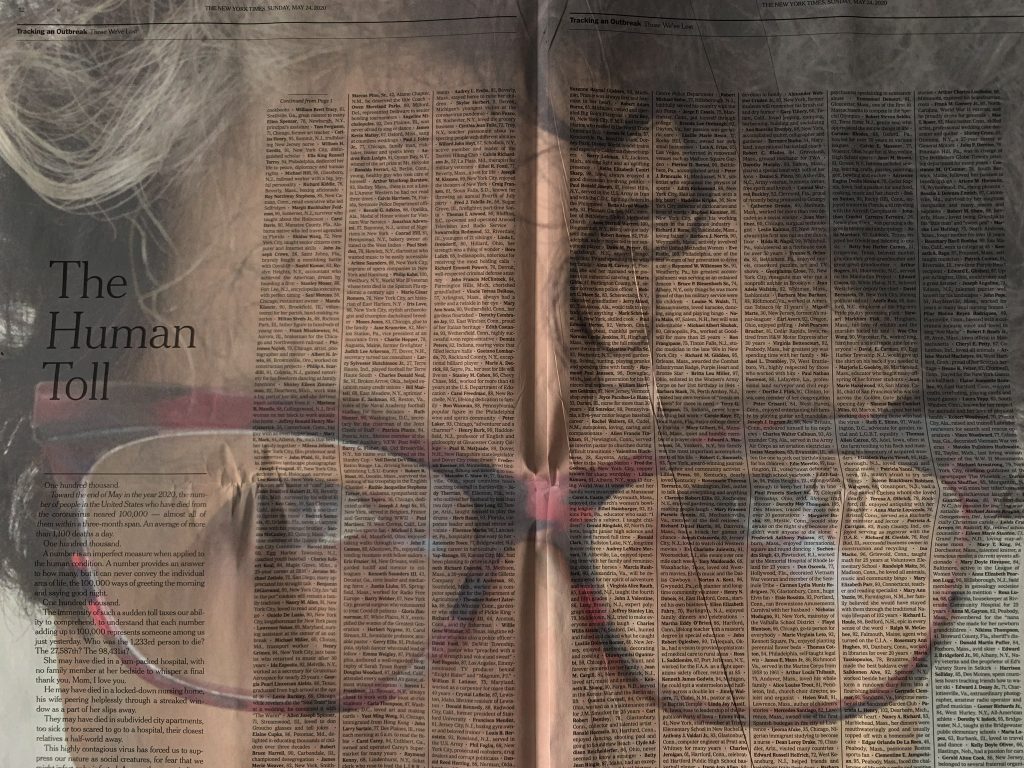 Lives Lost on 2 Cruel Days and The Human Toll (May 24, 2020) emerge from Lorie Novak's multi-year archival project Above the Fold, a collection and categorization of the above the fold images on the front page of The New York Times. In these photomontages, she shows her response, and guides ours, to the stories and images that occupy the newspaper's front page. In this series, Photographic Interference, she explores the contemporary predicament in which photographs and news reports assault us and surreptitiously envelop us. How do we look? How do we respond? In Lives Lost on 2 Cruel Days, Novak witnesses the newspaper headlines of 1,550 New Yorkers dying from COVID during the "two cruel days," April 6 and 7; her eyes peer through the doorway in which a smiling woman embraces her now late husband, and through the headlines of bodies and city-wide grieving. In The Human Toll, Novak confronts the 1,000 names on the front page that stood in for the 100,000 who had lost their lives to the Coronavirus in the U.S. by May 24, 2020. Novak confronts both the images and us, looking at her, with her, and through her.

Lorie Novak's photo-based works, installations, and web projects use various technologies of representation to explore issues of memory and transmission, identity and loss, and the relationship between the intimate and the public. She is a 2022 Guggenheim Fellow, Professor of Photography & Imaging at NYU Tisch School of the Arts, and the founder and director of Future Imagemakers, a social practice project in the Department of Photography & Imaging that offers a free digital photography workshop to NYC area high school projects. www.lorienovak.com
---
DESIREE RIOS
Covering the COVID-19 Pandemic, 2021
Photographs, 16" x 20''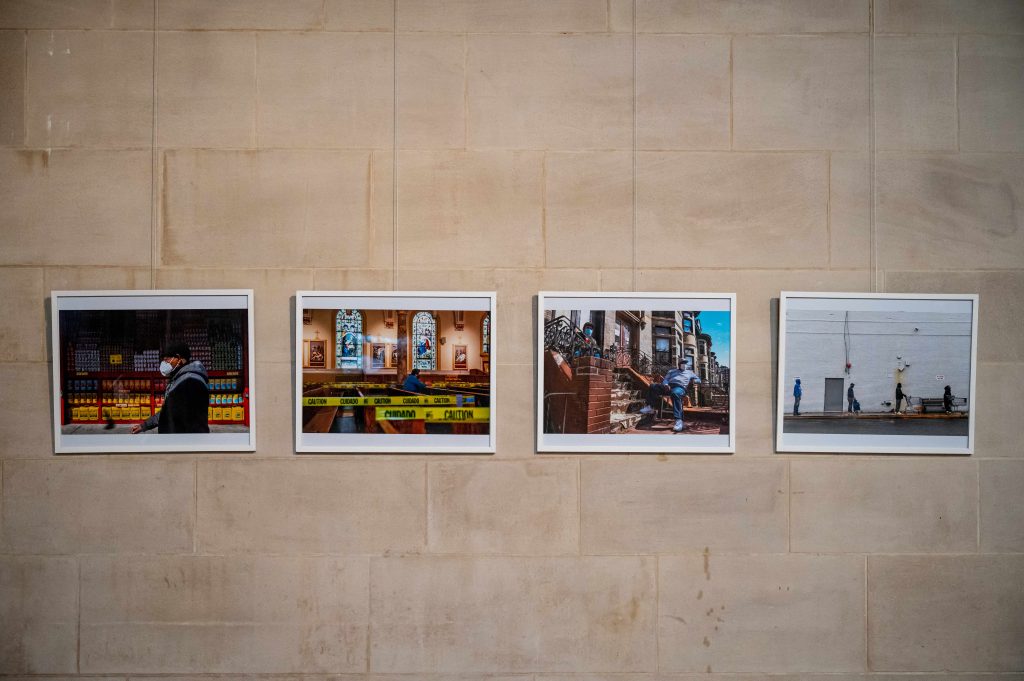 Desiree Rios selected photographs from her time covering the coronavirus outbreak in New York City, which at one point became the epicenter of this global pandemic, while on assignment for The New York Times. She mainly documented neighborhoods throughout the Bronx, Upper Manhattan, and Queens– some of the hardest hit communities. When the city grew quiet and many New Yorkers isolated themselves, essential workers, including journalists, continued to work and adapt to the new normal, often putting their own safety at risk.
001 – A man walks past Dan's Supermarket wearing a face mask on Thursday, March 26, 2020 in the Inwood neighborhood of Upper Manhattan, New York. Governor Andrew M. Cuomo issued an executive order closing all non-essential businesses statewide that went into effect on Sunday, March 22, 2020.
002 – A parishioner prays at Our Lady of Mount Carmel during Memorial Day weekend on Sunday, May 24, 2020 in the Belmont neighborhood of the Bronx, New York. The church was open for private prayer, but remained closed for mass and confession until further notice.
003 – Residents wear face masks while sitting on the stoop of a building in the Morrisania neighborhood of the Bronx, New York on April 14, 2020. Mayor Bill De Blasio announced Sunday that the city will open additional coronavirus testing sites in hard hit communities, such as the Morrisania neighborhood.
004 – People wait in line to enter the Stop & Shop grocery store in the Kingsbridge neighborhood of the Bronx, New York on April 18, 2020.
005 – Couples dance during a musical performance by Agrado de Tierra Caliente at Patron New York, a Latin nightclub and restaurant in the Mount Eden neighborhood of the Bronx, New York on Sunday, June 20, 2021. The venue operated at limited capacity and required guests to wear masks while dancing. Part of a larger project for The New York Times titled "The Nights When New York Felt Alive Again."
Desiree Rios is a Mexican-American photojournalist from Fort Worth, Texas, and her work centers on areas of social justice, immigration, and women's issues. She has been featured in The New York Times, The Wall Street Journal, CNN, The Guardian, Vox, and Buzzfeed News, and is also the lead photographer for the Zip Code Memory Project. She has been nominated for The Emmys in Outstanding New Approaches: Arts, Lifestyle, and Culture, and won first place in POYI 77, Online Storytelling: Daily Life competition. desireerios.com
---
CARRIE MAE WEEMS
Resist COVID / Take 6!, 2020
Printed photographs, a video, & posters
Dimensions variable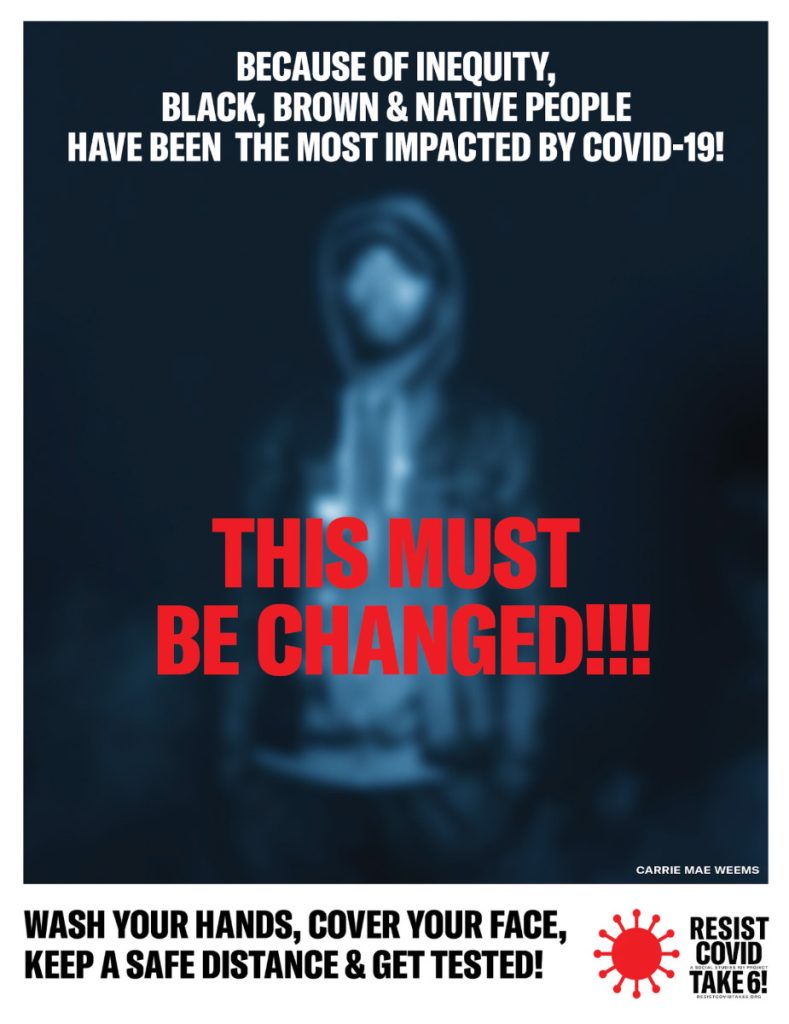 Resist COVID / Take 6! is an artist-driven public awareness campaign launched in April, 2020. The national campaign seeks to draw attention to the disproportionate impact of the coronavirus pandemic on Black, Latinx, and Native American communities. The title Take 6! is an allusion to the recommended six feet of separation in social distancing. In a sequence of commanding billboards, Weems confronts viewers with the realities of this international health crisis while simultaneously providing notes of gratitude to workers within the health and service industries and making direct appeals for people to take preventive safety measures. With emphatic insistence, Weems implores passersby: "WASH YOUR HANDS, COVER YOUR FACE, KEEP A SAFE DISTANCE & GET TESTED!" The powerful text is projected against images that deliver a visceral gut punch. The words stretch across a frame of Black and Brown bodies — those most likely to succumb to this relentless disease.
Considered one of the most influential contemporary American artists, Carrie Mae Weems has investigated family relationships, cultural identity, sexism, class, political systems, and the consequences of power. She has developed a complex body of art employing photographs, text, fabric, audio, digital images, installation, and video. Weems has received numerous awards including the prestigious Prix de Roma, The National Endowment of the Arts, the MacArthur "Genius" grant, and the Congressional Black Caucus Foundation's Lifetime Achievement Award, as well as many others, and has participated in numerous solo and group exhibitions at major national and international museums.
---
DEBORAH WILLIS
"Downtown Baptist Church on Malcolm X Boulevard" and "Mt. Zion Lutheran Church on West 145th Street" from the Sundays in Harlem Series, 2020
Photographs, 16" x 20" each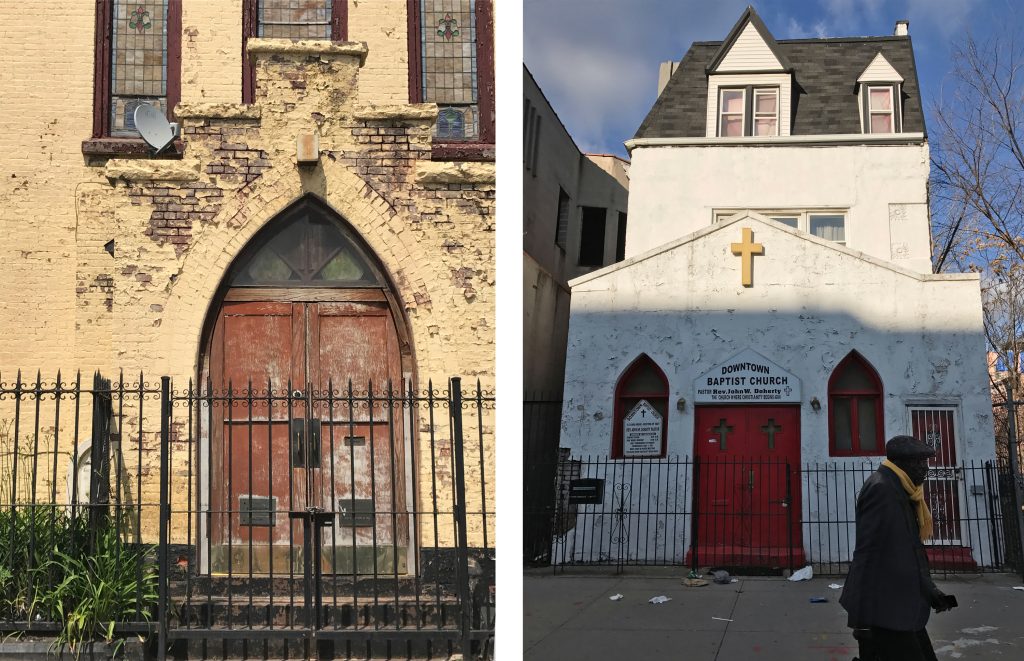 Deborah Willis shares photographs of Harlem churches during lockdown, with wind-swept plastic wrappers and bags littering their sidewalks and front doors. These images are a reminder of the eerie quiet of that time, even in the usually bustling neighborhoods on Malcolm X Blvd and on 145th Street.
Deborah Willis's art and pioneering research has focused on cultural histories envisioning the black body, women, and black neighborhoods in the U.S. She is a photographer, acclaimed historian of photography, MacArthur and Guggenheim Fellow, and University Professor and Chair of the Department of Photography & Imaging at the Tisch School of the Arts at New York University.
---
ZCMP PARTICIPANTS
Body Maps, 2022
Drawings and mixed media on paper
During our ZCMP workshops with María José Contreras, participants were asked to trace an outline of their bodies on a blank sheet, and fill that outline with places where they felt the effects of COVID. The body maps then provided the occasion for storytelling, empathy, and community-building among the participants. They were showcased in the ZCMP's Gathering for COVID on December 5th, 2021.
---
ZCMP PARTICIPANTS, with teaching artists KAMAL BADHEY, NONI CARTER, JORDAN CRUZ & CARINA DEL VALLE SCHORSKE
Spirit Cards, 2021-2022
Cards with drawings, 5" x 7''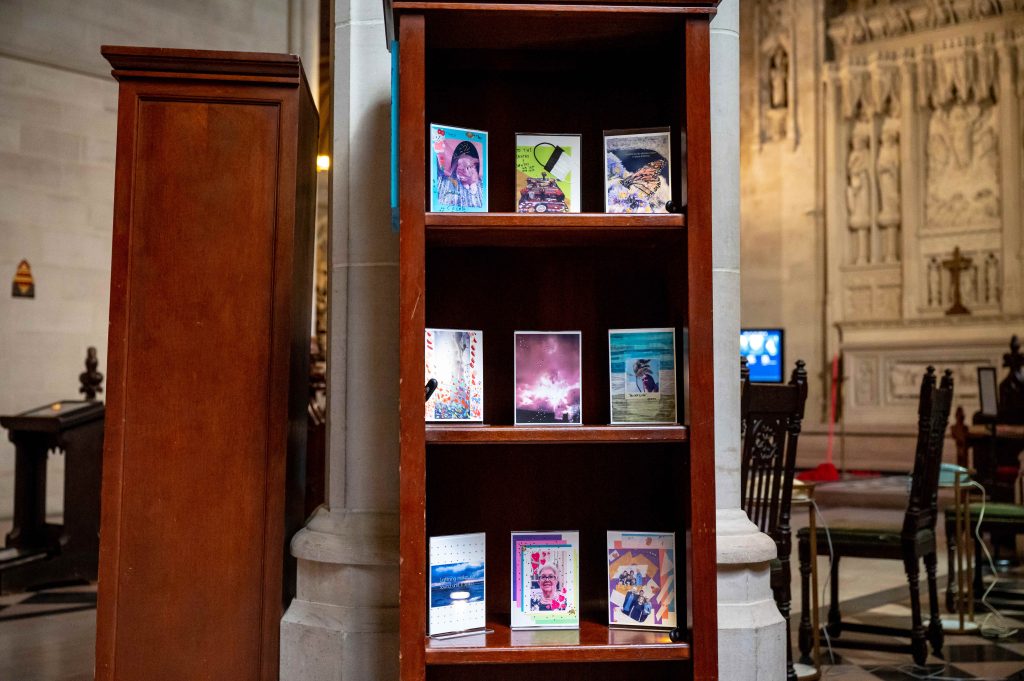 Spirit Cards allow individuals to carry a soothing memory, reminder, talisman, or prayer as they navigate daily life. As such, the cards express new forms of commemorating, grieving, and coping with loss. Created during ZCMP workshops, these Spirit Cards use multiple mediums, crafts, and writing strategies, ranging from Psalms and Haikus to gold leaf and photo-collage. While each Spirit Card is unique, they all aspire to hold onto something sacred or treasured that threatens to slip away. Compact and portable, they offer a rare occasion to linger or return to past moments, particularly in a "post"-pandemic world that relentlessly trudges on.
---
ANA-OFELIA RODRIGUEZ , MILAGROS BATISTA, RAFAELINA TINEO with contributions by Virginia Ayress, Eloisa Royal, and neighbors from Washington Heights
Altar to Beloved Neighbors, 2022
Photographs, candles, mementos, angels, crochet on table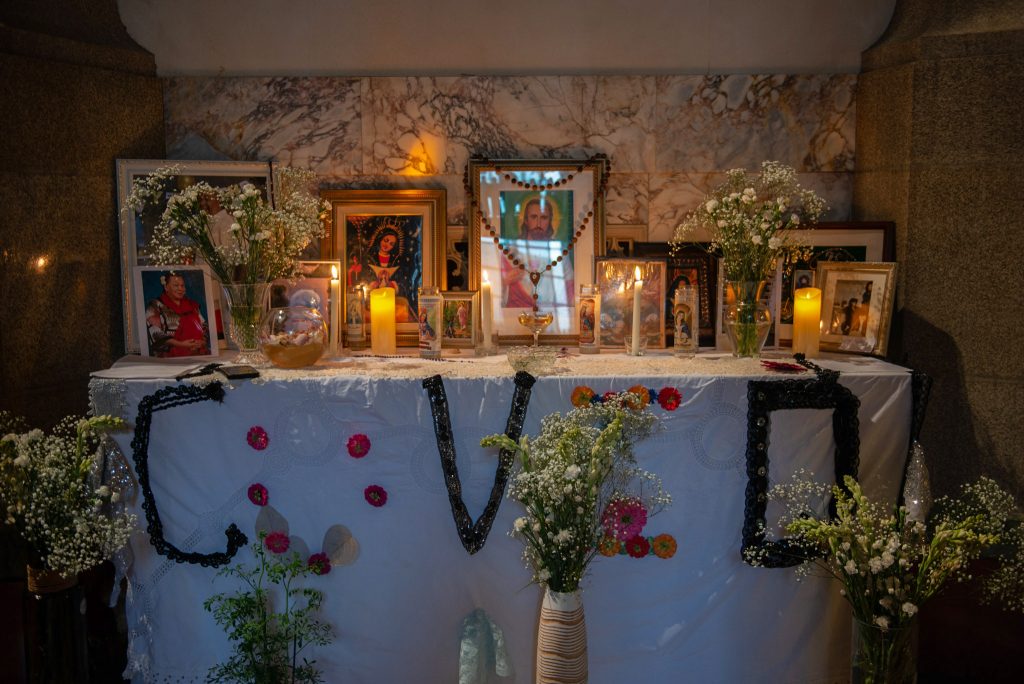 This altar is lovingly built to commemorate the lives of beloved family members and neighbors in Washington Heights and elsewhere. Relying on Afro-Dominican traditions, Rodriguez, Batista and Tineo gathered, made and decorated photographs and objects that serve as reminders of loss, even as they honor the lasting contributions of those who died of and during the pandemic.
Milagros Batista started to knit and crochet around her seventh birthday. Her teacher, a master knitter, awakened a lifelong interest in social activism. For 20 years she has been designing and producing classical pieces of wearable art. The past two years have forced her to shift gears. The disproportionate loss of life to Covid-19 in Black and Brown communities is a painful experience. The loss of 2 close relatives personalized the crisis. In her latest work, every stich is impregnated with feeling and emotion, a channeling of pain Black and Brown communities have become too accustomed to since childhood.
Ana-Ofelia Rodriguez brings together artists, community residents and private and public sponsors to plan and implement arts projects in traditionally marginalized communities. She has a Ph.D. in Spanish Literature from Washington University in St. Louis and taught at Marymount Manhattan College for a number of years. She served as Chief of Staff to Council Member Guillermo Linares from 1991-97 and worked as Director of Community Development & Gov. Affairs in Broadway Housing Communities from 1997-2020. She has been working as an independent art curator in New York throughout the pandemic.
Rafaelina Tineo is a mixed media artist who explores social issues on a global scale. At times challenging, her art questions the expectations of predefined socio-economic strata systems, social constructs, and sociological paradigms. Her materials range from paint on canvas to found object assemblages, documentary video and photog-raphy, and photo journalism has no limitations. Her recent work, "Queer Angels Rising," is an ongoing series dedicated to the LGBTQ community and inspired by her own experience as the parent of a transgender daughter. "Queer Angels Rising" attempts to redress prejudice by subverting some of the central themes traditionally associated with western ideas of angels as white, blond and uniquely male.

Header and Exhibition Photos by Desiree Rios